If you're one of those drivers who make short trips on a daily basis, your catalytic converter might suffer as a result, as it won't be able to accumulate the amount of heat needed to completely burn the hydrocarbons in the fuel. The best way to avoid blockage on your catalytic converter is to drive your vehicle for 15 minutes each day so that the exhaust heats up enough to scorch away the deposits that have accumulated on the catalytic converter. Here you can read about the catalytic converter cost, labor, and parts prices when to replace it, etc.
Catalytic converter replacement costs are typically very high because apart from the parts, it's a highly labor-intensive process that takes hours to complete, and that alone contributes exponentially to the cost. Replacing a catalytic converter in older vehicles can set you back $140 to $500, whereas replacing it in newer vehicles will cost much more.


How Much Does a Catalytic Converter Cost?
Well, the parts alone usually cost from $300 to $1,650, whereas parts and labor are $650 to $2,400. The labor price for replacing a catalytic converter at the reputable auto center can be anywhere from $60 to $130 per hour of work. As you can see, the cost of replacing a catalytic converter varies a lot, which is why it's always a good idea to ask for quotes before you settle on a mechanic to do the job. What is certain is that the cost is much higher than some other regular services such as brake pads and rotors replacement or price for an oil change for example
Catalytic Converter Replacement Cost Comparison
While the model and make of the car you drive does affect the catalytic replacement cost, you also have to keep in mind the general catalytic converter price range that's used for most cars.
Below we've got catalytic converter replacement costs from different service providers so you can make comparisons.

Catalytic Converter Replacement Prices
What's a Catalytic Converter?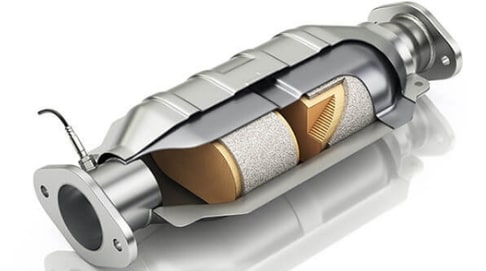 The catalytic converter is typically placed on top of the exhaust pipe and is responsible for emissions-related tasks. Its main job though is to scorch away all of the unburned particles that are dirtying the exhaust gases that escape from the engine. The operating temperature of the catalytic converter is usually between 500 and 1200 Fahrenheit, which is the temperature that it reaches as you drive the car.
What Does a Catalytic Converter Do?
It's important for this component to reach these high temperatures in order to be able to burn off all the debris in the exhaust gases, which are then converted into carbon dioxide and water vapor. The compound within the converter consists of precious metals like palladium, rhodium, and platinum. Once the catalyst loses its ability to burn the remaining hydrocarbons from the exhaust, a nasty smell could ensue, or you might notice frequent misfiring, a rough run, and the Check Engine light might come on.
Catalytic Converter Replacement Benefits
Since the catalytic converter is responsible for keeping the car's engine clean, it's essential to ensure that everything in your car is running as it should. That's why it's so important to pay attention to the converter and ensure that it gets checked by your mechanic every time you take it in for a tune-up.
You should also replace the converter when necessary to maintain good fuel efficiency and enjoy a smooth drive every time you're behind the wheel. Failure to maintain the catalytic converter in good condition can lead to costly damage that's more expensive to repair than it is to maintain the converter.
Remember:
An aftermarket catalytic converter usually needs to be linked to the exhaust pipes in most vehicles, which is a job that most mobile mechanics can complete without a hitch, especially if the catalytic converter you have is a direct fit.
You may also need to replace the oxygen sensors along with the catalytic converter in some cases.
The symptoms shown by a faulty catalytic converter are very similar to what you'd find with other car problems, which is why you should always get a mechanic to check your car in order to make an accurate diagnosis every time the "Check Engine" sign comes on.
When to Replace Your Catalytic Converter?
The moment the catalytic converter starts to malfunction; your car's engine light will most likely switch on along with deteriorating performance on your engine's part. A clogged catalytic converter can also lead to staling or a failure to start, as well as the engine light coming on. If things get worse, the surplus blockage will create unwanted pressure, which in effect, can lead to interior engine damage. If you're starting to notice any of the signs of converter damage that we've mentioned here, then you should definitely have it checked as soon as possible.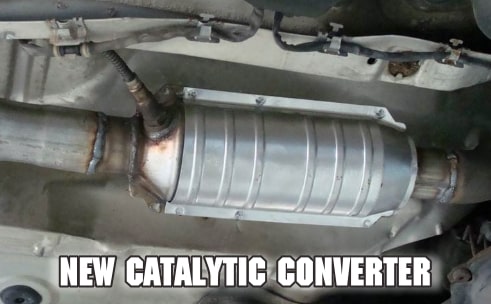 Certain states, including California, require that car owners adhere to particular emission standards if they want their cars to be licensed for use on the road, which is why it's not advisable to completely remove a catalytic converter. Cars that have tailpipe emissions often have poor air quality, and that adds to breathing ailments and environmental pollution.
Also, your vehicle's overall power output will start to decrease as the converter struggles to keep your engine clean and the spread of dirt particles then leads to poor performance. You may also notice that the exhaust has a weird rotten odor to it that wasn't there before. What you smell is the accumulation of all the things that were not burnt off by the converter.
Fuel economy also suffers when the catalytic converter gets damaged because now the car has to work twice as hard to perform normal tasks, thus requiring more fuel than usual. So if your car keeps running out of gas quickly, then you might have a problem with the catalytic converter.
Lastly, you may also notice that your car doesn't drive smooth anymore and that it's making certain backfiring sounds that you're not used to.
Is It Possible to Drive My Car With A Faulty Catalytic Converter?
Any car whose catalytic converter needs replacement simply shouldn't be on the road until the problem is solved. If you happen to fail smog testing in a state like California, you'll be prohibited from driving your car until you repair the converter.
In the worst-case scenario, a defective catalytic converter will limit the exhaust flow and will result in rough running and even total engine failure.
How to Diagnose Problems with Catalytic Converter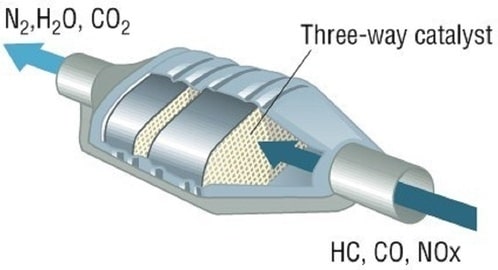 There are varying types of diagnostic methods that mechanics use for different levels of converter failure. For example, if there's a lack of power, then a back pressure test may be done to determine whether or not the component is blocked. Should the check engine sign flash on to reveal catalytic converter failure, then you should follow the diagnostic procedures as set out by the manufacturer to determine the cause. If you hear an unusual rattling noise caused by the converter, an exhaust leak might be the cause, in which case you should try to mimic the sound in order to confirm where it's coming from.
Signs of a Bad Catalytic Converter
The symptoms below could be signs of converter failure:
You notice the check engine light flashing
Your car's engine stalls or runs rough.
The tailpipe smells like a rotten egg.
Your car makes a rattling noise every time it's in idle mode.
The catalytic converter has a red-hot glow or causes a car fire to erupt.
How to Replace the Catalytic Converter
Replacing a catalytic converter is a rather complex task that requires the use of specialized tools; hence it should be left to the professionals.
For example, the mechanic has to use a power saw just to cut the old catalytic converter out and remove it. This has to be done delicately and carefully because one wrong step and the procedure might cause damage to other parts surrounding the converter.
Once the old converter is out, the mechanic will weld the new converter in its place. While it's a pretty straightforward and rather quick process, it's still not suitable for amateurs.
Here's what you should do:
Start by elevating your car and put jack stands underneath for support.
Remove the damaged catalytic converter.
Install the new catalytic converter and then start the vehicle to check for possible leaks.
Lower the vehicle and take off the jack stands.
Take the car for a drive for a road test to make sure that everything is in good working condition.
Is It Possible to Clean a Catalytic Converter?
Sometimes, an obstruction in the fuel (like dirt and debris) can compromise the efficiency of the catalytic converter considerably. Cleaning the fuel with an appropriate cleaner is one of the most efficient ways that you can use to save the catalytic converter from total damage. That said, you should keep in mind that this is only a temporary solution.
How to Save Money When Replacing the Catalytic Converter
While it might make sense to save on labor costs by doing the job yourself, it's generally not recommended to do so because it's a job that requires years of experience and skills, as well as specialized tools that might cost more to purchase than paying someone else to do it.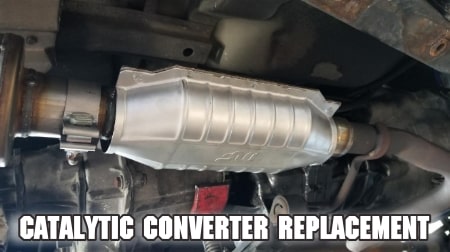 That said, if you have changed a catalytic converter before and you have solid experience working with cars and car parts, then doing it yourself could save you money because you already have most of the tools required. Just keep in mind that you'll still have to pay for the components, which can be quite expensive. But, it's worth investing in a good quality converter because it will last you longer while ensuring that your car runs as smoothly and efficiently as possible.
And beware of purchasing a cheap catalytic converter as the cost to replace a catalytic converter that's of poor quality will be more expensive in the long run than the purchasing of a good quality component.
Another way to save money would be to get quotes from different mechanics in your area so that you can compare prices and service value until you find one that offers the best value for money. The easiest way to do this is by searching on online search engines like Google, where you'd input keywords like "how much is a catalytic converter", "catalytic converter repair cost", "catalytic converter price", "catalytic converter shop near me" or "catalytic converter repair near me".
How Much Does It Cost to Replace a Catalytic Converter?
Here are some sample costs for catalytic converter replacement based on the most common and popular car models in the country. Just keep in mind that the prices might vary from the ones shown due to where you live, but you'll still be able to get a general idea of how much is a catalytic converter worth.
Catalytic Converter Replacement Cost
2014 Chevrolet Silverado 1500
In this guide you will find: