The brakes of your car are very important and even the slightest malfunction can significantly compromise your safety while you're driving. That's why it's so important to keep your brakes in good condition at all times through regular maintenance.
So, How Much Does it Cost to Change Brake Fluid?
Similar to how an oil change works, a brake fluid flush helps to clean out any impurities that may clog up your brake fluid, as that may negatively affect the overall function of your car.
Brake fluid change cost is usually between $69 and $110 for most cars. Most of this cost can be attributed to the labor that goes into the flush, as brake fluid is usually very affordable and the flush process is generally the same regardless of the type of vehicle you drive.
Brake Fluid Flush Cost Comparison
The costs shown below are examples of what a brake fluid flush typically costs when done at one of the leading auto repair shops around the country. This type of service is available at most local repair shops and is sometimes incorporated into your car's annual tune-up. Sometimes you can get a great discount if you perform brake fluid flush with the replacement of brake pads and rotors. That said, keep in mind that these costs should serve as estimates at best, as cost variations exist between different providers.
What is a Brake Fluid Flush?
Wear on your brakes over time is inevitable due to the burden placed on them while driving, and once they start getting worn out, the performance of your car deteriorates along with them. However, there are certain instances where brake defects are caused by impurities within the brake fluid as well.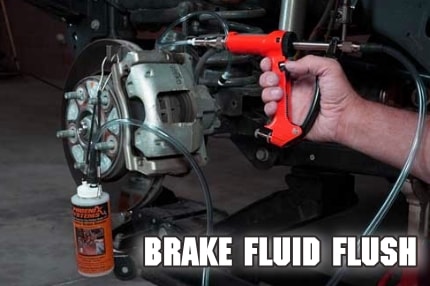 When you do finally flush out the brake fluid, it's not uncommon to find contaminants like dirt, air, grime, and moisture inside it. The worst part is that each of these contaminants affects the brakes differently and can really deter their overall performance.
When this happens, you'll find that your brakes are not responding the way they usually do, and they easily get squishy, which makes them really slow and very difficult to control.
Obviously, this is not a good thing because it increases your risk of getting into accidents while driving, and your car becomes a danger to your safety and the safety of those driving around you as well.
Why do we need to change brake fluid?
While contaminated fluid will literally wear your brakes out faster than you can imagine, a brake fluid change will not only make your car safer but will also prolong the lifespan of the drums and calipers, which are important components of your car's brakes.
Changing the brake fluid in your car regularly will prolong your vehicle's lifespan while improving its performance and saving you a lot of money in repairs.
When Should You Flush Brake Fluid and Is a Brake Fluid Flush Really Necessary?
The rate at which you change the brake fluid will depend on how often you apply your brakes, and frequently used brakes will have to be flushed out more frequently. Other factors that contribute to the frequency with which you flush out the brake fluid are how old the brake parts are and the type of brake fluid that you use.
Poor quality brake fluid has to be replaced quite frequently, whereas old brakes have a tendency of shedding into the brake fluid, thus necessitating frequent brake fluid replacement, so you should be careful how you allow brake fluid cost to affect your decision of what kind of brake fluid to purchase.
Usually, though, brake fluid replacement doesn't have to be done frequently and should ideally take place once every 3 years or after every 24, 000 miles. It's also important to make sure that you replace the flushed-out fluid with the right product, keeping in mind that while regular brake fluid is okay for some cars, other models require the use of a silicon-based fluid. You can search online to find out how much is brake fluid needed by your car and which brand is right for your particular model.
What's Done During a Brake Fluid Flush?
The process starts with taking out the old and dirty brake fluid so that the fresh brake fluid can be poured in.
Next, the brakes have to be bled in order to remove the air inside which is what's causing that squishy feeling when you press on the brake pedal.
Using a hose to pump out the air from the brakes, the brakes are left clean and free of air.
A powerful handheld vacuum may be used instead of a hose when the mechanic is coming to your house. Its performance is very close to that of the pressure bleeder so the result will be the same regardless of which tool is used.
Some of the brake fluid might spill out and onto the brakes during the bleeding process, but the mechanic will clean this up later when he looks for fluid leaks.
The mechanic will inspect each of the brake's components for possible defects, and this includes the brake hoses, rotors, and brake pads.
If they spot defects, they'll most likely fix them right away or report them to you first.
When the mechanic is satisfied that there are no evident defects on the brakes, they'll take the car for a test drive to make sure that the brakes are in good working condition again, and if they come across a problem while test-driving they'll check the brakes again until they find the source of the problem.
How to Save Money When Flushing Brake Fluid
While a brake fluid flush is one of the most affordable car tune-up services there is, there's still the possibility of paying more than you should. However, the price variation won't be that big, especially if you're getting a mechanic to do the procedure for you.
The best way to save money on brake fluid flush cost is to do it yourself, because it's an easy and straightforward process as we've described above, and you can easily find video tutorials online to help you along. Just type in "how to flush brake fluid" on YouTube and you should find something suitable. You can also look for brake fluid coupons to save on brake fluid change costs.  Here you can check some other car maintenance and repair costs such as oil change prices or wheel alignment prices.
Just make sure you use the right tools to avoid damaging your brakes by accident. Otherwise, a standard brake fluid change shouldn't be challenging, especially if you already have some type of experience in auto repair maintenance.
In this guide you will find: