One of the best ways to ensure continued engine performance is to follow the maintenance schedule that's set out in your vehicle's owner's manual.
However, as labor cost continues to skyrocket, sending your car to the mechanic for a tune-up is a rather expensive option for many who find that visits the mechanic end up costing them hundreds of thousands of dollars a year.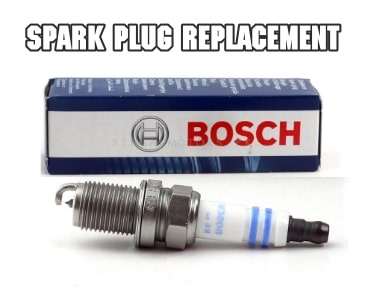 The good news is that there's a way to save money on your car's maintenance costs, including doing it yourself. Of course, you won't be able to perform all the maintenance tasks yourself, but replacing spark plugs is definitely something that you can do on your own because it only takes a few hours, requires very basic tools, and a little bit of know-how (which you can get below in text or from YouTube tutorials too).
How Often Should You Replace Spark Plugs?
Spark plugs are basically built to last for 30,000 to 100,000 miles depending on what your particular vehicle owner's manual says.
How Much Do Spark Plugs Cost
The average cost of a spark plug set (just the component), is $30, whereas taking your car to the mechanic can easily set you back about $100 to $200 due to the labor costs, especially if you have a mechanic that charges $100 per hour. Generally, you can expect that this service cost you much like some standard vehicle maintenance service as wheel alignment cost or oil change cost.

Average Spark Plug Replacement Cost – Parts an Labor
Every driver wants to know how much will it cost to replace spark plugs. Relax. Spark plug change cost is quite inexpensive and you can have it done at any garage of your choosing. Spark plugs and wires cost almost nothing when compared to other vehicle repair jobs, and it's a pretty simple and quick repair that will be over before you know it.
The average spark plug replacement cost is something between $115 and $259 from which labor costs are usually between $65 and $190 while parts are priced between $55 and $90.
So How Much Do Spark Plug Change Cost?
Spark plug replacement costs depend on how many are spark plugs from the individual manufacturers, as each will have its own price. Below we've got some useful example costs that will give you an idea of how much this replacement job would cost on some of the most popular car models in the country
Below are several examples of how much does it cost to change spark plugs based on data from some of the best auto repair chains in the country.
Spark Plugs Replacement Cost
What Are Spark Plugs?
Spark plugs are the true definition of dynamite that comes in small packages, as they're responsible for supplying a spark of electricity that powers up your car's entire combustion, which is what's required for starting the vehicle. As soon as the engine's pistons start moving, your car is able to power up and maintain that power in order to steadily and seamlessly burn the compressed air-fuel mixture smoothly.
In fact, spark plugs are so strong that they're able to tolerate the high temperatures and pressure that come from the cylinders while being able to burn off any fuel deposits, contaminants, and fuel additives coming from your car as well.
What Happens to an Aging Spark Plug?
Spark plugs only start to deteriorate after years of taking the abuse that includes extreme temperature changes and extreme conditions that they go through for tens of thousands of miles. That's why they're made of a strong and sturdy material, because the tougher the material, the more resilient and enduring the spark plug will be. That said, your car's spark plug will still suffer wear and tear regardless of the materials that they're built from.
Even spark plugs have an expiry date, and that's mainly because:
Deposit Buildup on the Spark Plugs: Deposits tend to build on in the spark plugs as a result of the air-fuel mixture, and this, in turn, leads to fuel pre-ignition. When this happens, the supply of energy to your car becomes unreliable and glitch.
Expanding gap that becomes increasingly hard to jump: During spark plug ignition, space through which the spark travels has to be a wide enough gap to provide the combustion that's needed at that moment. Now, the older and more worn the spark plugs become, the wider that gap becomes, and this is usually due to exposure to extreme temperatures, debris build-up, and just everyday wear and tear.
Why Should You Change Your Spark Plugs?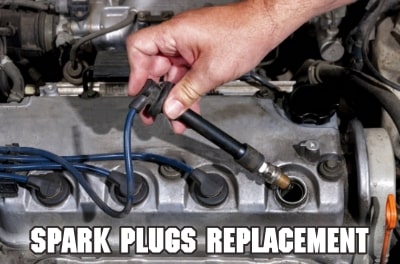 Replacing the spark plugs in your car on a regular basis will help prevent your car from developing starting issues. Plus, when you know that your spark plugs are working the way they should, you'll have peace of mind knowing that you won't have to worry about your vehicle letting you down in the middle of traffic or anything like that.
It's very important that you pay close attention to your spark plugs so that you're able to notice when the wear and tear start to take a toll on them.
How Often Should Spark Plugs Be Replaced?
You should preferably replace them as soon as you notice something wrong, or at least once a year. While spark plugs are just a few of the components required in running your car, they tend to wear out more frequently than other parts.
A car with worn-out spark plugs will have poor fuel efficiency, it won't run as smooth as it normally does, and it will struggle to get the power required to go up steep hills or haul heavy loads. Making sure that your spark plugs are in good condition will go a long way in avoiding most of these issues.
How to Find the Right Mechanic to Replace the Spark Plugs on Your Car
While replacing the spark plugs on your car will save you a considerable amount of money, it's always a good idea to have the job done by a professional mechanic.
The way certain engines are designed, for example, makes it difficult to change components on them, and the time factor may also prohibit you from performing the task when it needs to be done. If you find yourself in a similar situation, then you'll do well to visit a reliable user review site in order to source local auto repair service providers that have the highest ratings and reviews.
The goal is to hire a service provider that provides great value for money, quality parts, and great service.
When Should I Replace My Car's Spark Plugs?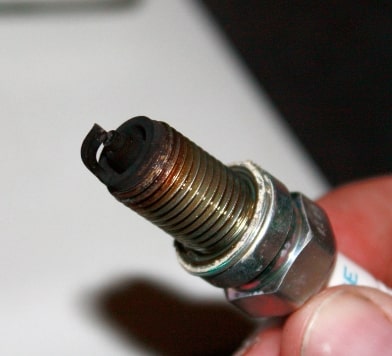 It's important that you have the spark plugs on your vehicle checked by a professional mechanic once every 30,000 miles, in order to check how the fuel filter, air filter, cabin air filter, tires, breaks and charging and starting system are working. Regularly inspecting your car in this way will ensure proper maintenance of your vehicle's safety, its most important components- including the exhaust and emissions systems while also maintaining its value and making sure that you're able to rely on it at all times on the road.
For the best results, make sure you replace your car's spark plugs with components of the same brand. For example, if your car's spark plugs are made from materials like platinum or double platinum, then you should replace them with the same type of spark plugs just so you're in compliance with the vehicle manufacturer's original design.
The spark plug wires on your vehicle should also be inspected during the replacement procedure because they can easily come apart when disentangling them due to old age. Good quality spark plug wires can easily last for 60,000 to 70,000 miles of driving, and you'll want to replace them before they start causing your trouble like misfiring or rough driving, as this can lead to catalytic converter damage.
How to Replace Spark Plugs Step By Step Guide?
The first step involves cleaning out the whole area surrounding the spark plugs. Most spark plug problems happen as a result of dirt and grit getting in the way of the connectors that need to link up in order to operate the engine. So, it's quite possible that a simple clean-up can actually fix the problem.
Next, the mechanic will inspect the spark plug for accumulated oil and other buildups that might be wearing out or polluting the spark plug. Also, an old spark plug will have a noticeably darker shade than a fresh new spark plug.
Once it has been established that the spark plugs are in fact worn out, the mechanic will remove them and examine the engine heads of the plugs that were just taken out. He'll also inspect the ignition wires as well as the compression too.
Lastly, the mechanic will put anti-seize on the threading of the spark plugs before installing fresh plugs to replace the old ones. Afterward, the mechanic will test the engine to make sure that the car is able to start and drive smoothly and without any hitches.
How to Save Money on the Spark Plugs Change
Replacing spark plugs is a rather straightforward and simple task, plus it doesn't take that much time at all. Most car owners are capable of completing the task on their own or can easily learn to do so. However, you should still be mindful of the type of spark plugs that you choose, and make sure that everything is in its place after you're done.
It's also important, to be honest with yourself and admit if you don't know how to do something, because if you make one simple mistake while replacing the spark plugs then you could end up damaging the starting function of your car.
To be on the safe side, ask an expert to teach you how it's done so that you can cut costs on labor while still making sure that you've done a good job. Generally, you should know what needs to be done by the time you start performing the replacement.
Another way to save costs on spark plug replacement is to purchase the parts before you take the car to the mechanic, or purchase aftermarket parts if you can find them in good quality condition. However, we don't recommend the latter option because second-hand spark plugs are not as reliable or durable as new plugs, so the savings won't really be worth it in the end.
You can also easily find discount coupons for spark plug replacement from Firestone, Walmart, NTB, Goodyear, Valvoline, Midas or some other auto service and save up to 30%. Find those discounts on their official websites or search Google for terms like "spark plugs coupons", "spark plugs replacement cost", "spark plug change cost", "spark plug replacement cost", "spark plug cost"…
In this guide you will find: