The function of the CV joint in your car is to connect the tires to the gears, and the main things that cause it to malfunction are prolonged wear and tear and a lubrication deficiency. A lack of lubrication is not only one of the main causes of CV joint malfunction but it usually signals a potential leak from the boot, which can be very dangerous indeed.
The most recommended and best course of action to take when this happens is usually to replace the axle shaft completely.  This guide speaks about CV joint replacement cost when you need to replace it, benefits of CV joint repair…
What is the average cost to replace a CV joint?
Replacing a CV joint will most probably cost the same as replacing the axle shaft, but the overall cost will depend on whether or not you're replacing one or both components. You can buy a new axle shaft for 86 to $200, whereas parts and labor combined can cost anything from $150 to $750.
A double-axle joint replacement job can cost twice as much as a single axle replacement and can vary from $150 to $350, whereas the cost of the components combined with labor can go from $250 to $1,350.

CV Joint Replacement Cost Comparison
The total costs involved in replacing a CV joint are highly dependent on what kind of vehicle you're driving and whether it's a single or a double replacement. You can purchase the parts required for the work yourself, but the actual replacement should be done by a professional, because the CV joint is an essential element of your car's functionality, and you don't want to leave anything to chance.
As you can see below, CV joint replacement cost varies depending on what type of service provider you choose, and it's the same when it comes to the prices of the different components involved in the process.
Walmart
Walmart CV Joint Replacement Cost
Pep Boys
Pep Boys CV Joint Replacement Cost
Goodyear Auto Service
Goodyear Auto Service CV Joint Replacement Cost
$300 ($150 parts, $150 labor)
Firestone Complete Auto Care
Firestone CV Joint Replacement Cost
NAPA Auto Parts
NAPA Auto Parts CV Joint Replacement Cost
What is a CV Joint?
The CV joint is a key component of the actual axle shaft and sits next to the boot and the grease. The axle shaft is commonly referred to as a 'CV axle' or a 'half-shaft', and its job is to link the tires of your car to the gears in the transmission. That's why one end of the axle shaft is attached to the transmission while the other end is attached to the tires. The transmission works to gently spin the shafts so that they can be able to turn the wheels in order for the car to move.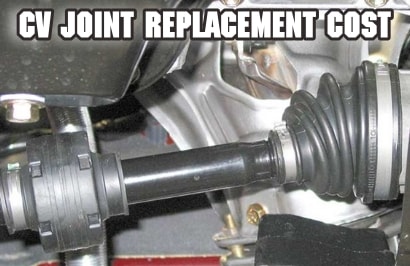 Leaking grease is one of the primary causes of axle shaft failure. As the grease leaks out, it leaves the CV joint dehydrated, and a lack of lubrication will lead to dirt and debris getting into the joint, which will accelerate wear and tear even more.
Most mechanics you consult when you have this problem will most likely recommend that you replace the entire half shaft instead of the separate parts. Not only is replacing the half-shaft a quick and straightforward job, but it'll save you loads of money in terms of the labor costs involved.
The type of transmission you have will also contribute to the cost, as well as the number of half-shafts that require replacement. Most times, 4 wheel drive vehicles have two half-shafts at the front and two at the back but replacing all of them will cost you a pretty penny. The good news is that it's usually just one half-shaft that needs to be replaced most of the time, which makes it a very affordable and straightforward job.
How important is the CV Joint Replacement
Once the CV joint in your car starts to malfunction, it'll influence the amount of power that gets delivered to the tires. You'll notice that your car has a shortage of lubrication when it starts to make loud clicking sounds every time you make a turn. However, this problem will immediately disappear once you replace the CV joint or the full axle.
Most vehicle models can go a really long time without experiencing any problems with the CV joint or the axle shaft. The outer CV joint though is the one component that tends to cause the most problems, and you'll know that it's malfunctioning when you hear it make loud clicking sounds when you turn the car.
Although rare, it's also possible for the outer joint to literally disintegrate while you're driving it, at which point you wouldn't be able to drive your car anymore. The best way to avoid a situation like this is to perform regular maintenance on your car and replace the joint whenever necessary.
When Should You Repair the CV Joint?
There are a few symptoms that you will definitely notice when the CV joint or axle is having problems. For example, the axle will generally start making a loud clicking sound when it starts to malfunction, which usually points to a lack of lubrication.
Other broken CV axle symptoms include a car that vibrates every time you accelerate, which could be a sign of damage either on the CV joint or even the driveshaft, depending on the design of your car.
While CV joint malfunction can manifest in steering problems, this is mostly caused by issues with the driveshaft. The most common symptom of a broken axle shaft to look out for is a noticeable clicking sound when you turn the car.
Also, if you see grease coating the wheels of your car, this may be an indication that you've got a leaking boot, an issue that should have your immediate attention.
A boot that's leaking grease is a sign of serious damage and this can destroy the axle and the CV joint as well and should prompt you to get a CV boot repair as soon as possible.
Trust us! You don't want to lose control of your wheels while driving, so we'd advise that you take your car in to get checked by a mechanic as soon as you notice any of these signs.
What is Done During a CV Joint Repair?
The mechanic will inspect the car to see what symptoms it's exhibiting, and if it shows signs of axle damage, then he'll most likely replace the entire shaft instead of just the individual parts.
To do this, the mechanic will start by jacking the wheels from the ground in order to remove them, and if he sees a faulty axle then he'll replace it right there and then with a new one.
Right before putting the wheels back on the car, the mechanic will also twist the fasteners so that they're torqued according to factory specifications.
Next, he'll check tire pressure followed by a road test to make sure that everything is in order.
The good news is that an axle replacement is a quick and straightforward process even though it's a major repair.
However, if there are multiple faulty axles and CV joints in your car then it might take a bit longer to repair, and it will definitely cost a lot more as well.
How to Save Money on a CV Joint Repair?
The easiest way to save money when repairing your car's CV joint is to replace the entire half-shaft instead of going through the complicated procedure of repairing the CV joint, which will take longer and cost more. Any good mechanic will recommend this option to you, and if they don't and opt to repair the CV joint instead, then you should definitely ask them about the alternative, which would be a full axle replacement.
Axle shaft replacement is one of those jobs that you want to leave to a professional, even if you're experienced when it comes to replacing car parts because it's such an important part of your car's function that you don't want to make any rookie mistakes on it and compromise your safety while driving.
If you're not sure where to get the job done, simply search for a mechanic online, in person, or via the phone, and make sure to get quotes from different service providers so that you can make comparisons. Simply go on Google and type in relevant keywords like "axle seal replacement cost", "axle repair cost" or "axle replacement cost".
Soon enough, you'll find a competent local repair shop that will do the job for you without charging you an arm and a leg.
How Much Does It Cost to Replace a CV Joint?
The following is a list of quotes for CV joint repair, based on the most common car models in the car. On the first table, you'll see the average axle replacement cost, which is for one of the wheels, either at the back or the front of the car (front axle seal replacement cost).
The second table contains double CV axle replacement cost, either for the front or back wheels. If you've got a 4-wheel drive car and all the axles need to be replaced at once, then you can easily end up paying double the average cost shown in the second table. Thankfully, this is very rare but it can be very expensive when it does happen.
In this guide you will find: