The battery is there to basically power up your car with electricity, which is what enables it to start and run in the first place. It's important to make sure that your car battery is in good working condition at all times, because if it malfunctions, then nothing in your car will work.
Car battery replacement cost is usually between $50 and $200, most of which comes from the new car battery cost than the labor. Labor cost will probably be $30–$50 or even FREE in most auto services.
Car battery replacement is a really simple and easy procedure, and it doesn't take that much time to complete either.
Car Battery Replacement Cost Comparison
The following is a list of car battery replacement cost examples, based on the rates offered by the country's leading garage chains. However, car batteries prices might differ where you are due to your specific car model and local rates. In any case, you can expect a cost comparable to the cost of changing the oil, brake discs replacement or wheel alignment costs.
Car Battery Replacement Cost
What's the Car Battery?
The battery is an essential component of your car, and it's recharged by the alternator. The alternator's job is to transform the physical energy of your car into electricity, which it then uses to recharge the battery. The alternator works in synch with the battery in the sense that the alternator only starts to generate electrical power when there's movement, which is in turn facilitated by the battery.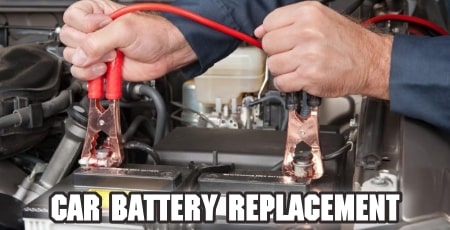 The car battery is built in a very straightforward manner. The outside is made up of a plastic case that contains the inner components, namely the negative and positive lead plates which are arranged like a grid and covered in sulfuric acid paste, some water, and lead oxide powder. These plates are separated by a thin and porous material known as 'separators', in order to prevent them from short-circuiting.
On a fundamental level, the battery contains 'cells' which are made up of negative and positive plates as well as a separator. When connected to a particular metal, these cells are then responsible for conducting electricity.
Covering the cells is a substance known as battery fluid, which is made up of an electrolyte solution of sulfuric acid mixed with water.
Lastly, twin terminals made out of lead jut out from the battery top, and these are what connect the battery to the other electrical components of your car using electrical circuitry. In case you're wondering, most car batteries have a voltage rating of 12.
Discover the Advantages of Replacing Your Car Battery
The battery is responsible for starting your car's engine and it does that by delivering electrical power to the starter motor. The battery also transfers power to the lights, stereo, electrical seats, window motors, computer box and all of your car's components that operate on electrical energy.
Once your car battery starts to malfunction, you'll start having difficulty in starting your car and will probably notice a few glitches with the function of the electrical systems as well. What this basically means is that you simply cannot drive your car at all if the battery is not functioning, which is why it's vital for you to keep it in good condition.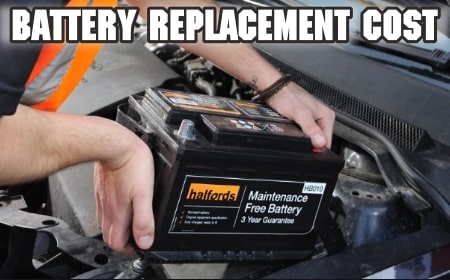 You see, the battery releases electricity whenever it's required to, whereas the alternator returns the electricity while you're driving the car.
If you've ever heard of the term "dead battery' then you've probably come across or experienced a vehicle that refused to start before. This often happens when there's no more power in the battery, which means that it needs a recharge either by jump-starting it or through a battery charger. The jump-starting method works by transferring power from another car so that the alternator is able to recharge the battery once you start driving again. However, a simple recharge is not enough for a completely worn out battery, and it will most likely have to be replaced.
If you want to avoid having your car die on you in the middle of the road, then you'll do well to replace its battery.
What Factors Affect The Battery Cost
The car battery price depends on several factors: The model of the vehicle battery, the capacity and size, transport costs to your location, the moment of buying the battery…
When does a car battery need to be replaced?
The simplest answer to this question is that you should replace car battery when it's unable to hold the same electrical charge that it was capable of in the beginning. This decline in holding capacity is due to corrosion which happens naturally over time.
Some of the signs of a worn-out battery are that your car won't be able to start or you'll notice a strange sound coming from the engine, as though it's having a hard time working. The battery might also struggle with meeting the demand for electrical power, hence you'll notice that some of the car's electrical components won't be working as they should, and that's when you should take your car in so that the mechanic can check if the battery is still alright.
The battery should also be replaced immediately if it gets accidentally damaged in any way during maintenance.
Your car might also flash a warning lamp to try and alert you of the problem.
It's standard procedure for your mechanic to perform a routine examination of your battery during a tune-up, either through a visual check or by using specialized equipment. If your mechanic tells you to replace the battery after his inspection, then you'll do well to follow his advice.
How to Replace a Car Battery
Before you start with the replacement, first find out where the battery is located in your car because of each vehicle stores it in a different location. It could be in the boot, under the bonnet, behind a seat or even under the floor. So, check the owner's manual to find out where your car's battery is.
How to Replace a Car Battery- Step by Step:
Secure your car
Find the battery
Get rid of anything that's covering the battery
Next, label the battery terminals and then start by disconnecting the negative terminal, followed by the positive terminal
Free the battery from its casing
Remove the battery
Install the new battery
Connect the positive terminal, followed by the negative terminal
How Much Do Car Batteries Cost?
The labor costs of replacing a car battery are pretty low because the process is a quick and straightforward one. However, the car battery price will make up most of the replacement cost, although it's contingent on how much is a new car battery for your particular car model.
A great way to save money on car battery replacement is to compare quotes from several reputable mechanics and dealerships in your area, which you can find by searching on Google. You can find a lot of coupons for car battery replacement. Also make sure to use relevant keywords like, "car battery replacement" "how much is a car battery", "how much does a car battery cost", "how much are car batteries", "cost of car battery", "how many years do car batteries last", "how long does it take to change a car battery".
In this guide you will find: