For many people, their vehicles can be an absolute essential in everyday life. When things go wrong, the convenience of searching online for "mobile mechanic near me" or "mobile auto repair" or "mobile diesel mechanic" can be irresistible. It can be a great solution, so things can to return to normal quickly.
But hiring a mobile mechanics can sometimes be a less than perfect experience if you don't know what they can do, and the warning signs to look out for.
So let's take a look at exactly how you can go about hiring a fully qualified mechanic who can deliver the highest standards of mobile auto repair, at a great price.

On top of that, we will go through typical services mobile auto mechanics can offer, average pricing you should expect to pay, things to look out for, and also a few tips on hiring a mobile vehicle mechanic near you that won't let you down.
Barriers To Hiring A Mobile Mechanic
When it comes to hiring a mobile car mechanic, many people are put off from trying because they have fears around several common areas:
They think a mobile auto repair service will be inferior to a full garage mechanic service. Many people think that they simply don't have the equipment to carry out a satisfactory job, or that they are poorly trained or lack proper auto repair experience.
Linking into number one above, generally, it can be a concern that mobile car mechanics won't have the same level of qualifications as garage mechanics. The feeling is that you are somehow getting a "part mechanic", who will just do minor repairs, and then try and push you towards a proper garage to get bigger repairs done.
People are rightly worried about accountability, guarantees, and pricing. Many people worry that a mobile diesel mechanic is less trustworthy, and could be more expensive.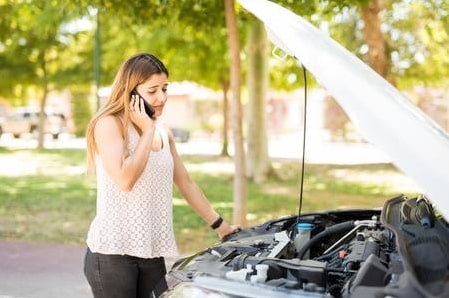 The truth is that all three of these main concerns are completely unfounded, as long as you choose a qualified mobile car mechanic from a reputable service.
Modern mobile auto mechanics are fully equipped with the latest diagnostic equipment, a full range of tools, and the ability to carry out all but the heaviest of auto repairs.
In terms of pricing, it's simply untrue that they cost more money. In fact, pricing tends to be more competitive and standardized in mobile mechanics, than turning up at an independent garage, where your car can be basically held to ransom, or unauthorized work done while you are not present.
Calling A Mobile Auto Mechanic: How It Works
The process of hiring a mobile automotive mechanic is simple and reliable. Either you will have a service in mind, or you will just Google "mobile auto repair near me" to find a suitable local mobile car mechanic.
Many mobile auto mechanics are not independent. Although you can get them, they tend to get more work by being employed, or freelancing, through a larger company.
So don't be concerned when you see websites talking about their mechanics, it just means they have a lot of independent, or employed, mechanics working for them. Larger companies also tend to invest in their mobile vehicle mechanics, by ensuring they are fully trained and accredited.
The steps to hiring a mobile mechanic are:
Visit the website and check that the company meets recognized quality standards.
Give the company a call and talk through the problem, or the situation you want to resolve. Most of the time they will be able to give you an accurate quote for the service, or repair. If it's an uncertain issue, then they will be able to give you a ballpark figure, which you can agree with the mechanic after diagnostics have been carried out, before they carry out a repair.
This is the real beauty of hiring a mobile auto mechanic. You simply book a time and place that is convenient for you. They will then turn up, talk you through everything, and then with your authorization, carry out the work. Because they know what the job will probably entail, they will 99% of the time arrive with the correct tools and parts.
So there is no sitting around in garages, and no feeling uncomfortable, which can be especially reassuring if you are female.
The Benefits Of Using Mobile Car Mechanic Services
When it comes to considering hiring a nearby mobile auto mechanic service, there are several key benefits over taking your car to a traditional garage:
It's more convenient to have the mechanic travel to you
Your car can't be held to ransom if you are not satisfied
It's easier to build trust and rapport with a single person
You can usually get someone far more quickly than booking into a garage
There is no sitting around in the auto repair shop for hours on end
Mobile mechanics can also be verified as fully qualified more easily than turning up at the garage. Especially with local, independent garages, you literally have no idea if what you are being told is accurate. Would you stand in your local garage demanding to see qualifications?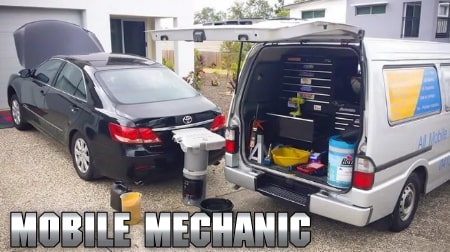 But mobile auto repair companies, have reputations online to protect, and standards they set for all their employees. These are displayed prominently, and they don't have any problem with people asking for reassurance.
So a huge benefit is to be able to quickly check that the mechanic has been qualified at both national, and local levels, with recognizable, verifiable qualifications, and association memberships.
One of the widely recognized association memberships, which demonstrates expertise and knowledge, is the National Institute for Automotive Service Excellence. If you see that the mobile auto repair service you are thinking of calling is ASE certified, then that is a great reassurance.
ASE provide testing and certification for all the main areas of car repair and maintenance:
Servicing
Technical work
Engine performance
Body repair
Medium/heavy truck repair excellence
In addition, other associations offer certification in additional areas, such as:
Collision work
Alignments
Air conditioning
Steering
Although a lot of these qualifications and excellent certificates will be awarded by national associations, it also happens through state-level associations as well.
So before hiring, it's worth looking at the associations the automotive repair service is assessed and accredited by.
Services Mobile Mechanics Can Provide
The services a mobile auto repair can provide at the location you choose is limited only by the size of the work to be carried out, and the location that the work will be carried out in.
Sometimes it's inevitable that a car needs to be over a pit, or lifted fully off the ground for work to be completed, which will mean transporting it to a garage.
But mobile mechanics can provide a myriad of services on the spot, which of course will be verified when you make the booking. In terms of the sort of services a mobile car mechanic can provide:
Timing belt replacement
Starter motor replacement
Drive belt replacement
Testing and replacement alternator
Fuel pump replacement
Radiator repair or replacement
Gasket repair or replacement
Electrical repair work
Axle/CV shaft assembly replacement
Pricing: How Much Does A Mobile Auto Mechanic Cost?
Mobile auto repair services are surprisingly affordable. Many people think you will get ripped off if you use a mobile mechanic, feeling that they can pressure you on arrival.
The pressure concern is around trying to up-sell you or convince you the problem is worse than at first thought, in order to charge you more money for the car being towed to another location.

With a reputable and fully qualified mobile diesel mechanic service, these worries are pretty much zero. The mechanic service will talk through pricing before they arrive, or the mechanic will discuss the exact issue once diagnosed, and give you a price, including additional charges and tax.
So you won't get that situation of turning up at the garage you left your car at, only to find that they have completed work you didn't ask for, authorize, or charge you more than you were told initially.
In terms of exact pricing, it will obviously depend on the work being done. So it's difficult to offer any specific pricing advice. However, there will be a call-out charge. They won't just turn up for free, and only charge you if the repair is needed. A lot of companies charge around $80-$100 for a call-out and diagnostic report.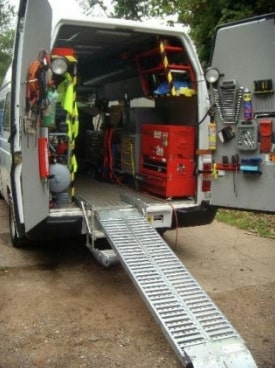 So to get the mobile mechanic to where you are, and for them to tell you exactly what's wrong, and how much it will cost, could mean around a hundred dollars expenditure. However, compare that to the cost of leaving your car at a garage for a day, plus the inconvenience, and you can see it's actually a very affordable service guarantee.
The other problem with giving exact example pricing, apart from the myriad of things that could be corrected or repaired, is that the age of the car, and whether it's domestic, European or from the Far East, can also affect pricing.
But to give you a ballpark example, to replace the water pump on a C class Mercedes averages around $400-$450 dollars. In many cases, this is actually around 10% cheaper than what you would be charged at a regular garage, and up to 20% cheaper than a Mercedes dealer.
Do You Get Warranties & Guarantees On Completed Work?
Any reputable mobile auto repair service will provide full guarantees and warranties on any work they carry out. This will include parts and labor warranties.
It doesn't matter what the work is, or what type of car, you could need a mobile diesel mechanic, what matters is that a mobile auto mechanic will provide full guarantees. It should be a huge red light if they can't.
In terms of parts, many mechanic services will provide the manufacturer's warranty, or their own company warranty if it is superior. Often this can be a year or more, but most mobile services guarantee repairs for a minimum of 90 days.
Generally, a service and parts warranty should be at least 90 days and is often a lot more. If the company can't offer you this, then you should look elsewhere.
A good quality warranty will protect you against defective work, or parts, for its duration. So for example, if you have a replacement water pump put in, and it isn't installed correctly, then the pump, and any damage caused by the incorrect installation will be covered by that warranty.
A Mobile Auto Mechanic Can Buy You A Better Car
One service that a mobile car mechanic can provide, that many people are unaware of, is they can attend the location of an automobile you are intending to buy, or have put a deposit on, to give it a full look over.
If you are going to spend thousands of dollars on a car, to spend as little as $100 on a pre-purchase car inspection could prove invaluable.
The mobile mechanic will turn up where the car is, gain access, and do a full diagnostic check of every part of the car electrically, mechanically, and structurally.
They will then provide you with a detailed report, detailing any defects, or advisories, so that you can make a decision on whether buying that car is going to be a great choice or not.
Are There Any Disadvantages In Using A Mobile Mechanics?
As long as you choose a reputable mobile automotive repair service, then the disadvantages of using a mobile auto mechanic are actually incredibly few.
As you probably already realize, the main disadvantage is that if it's a large job, then it mostly cannot be done by a mobile auto mechanic. So if the entire engine needs lifting out for example, then that could be something that needs to be done in a garage.
Likewise, if it's a significant job that requires the car to be lifted off the ground, or parked over a pit, then again, that's something that will require a full garage service.
But unless a job requires heavy vehicle lifting equipment, tooling machinery, or unusual parts, pretty much any job can be carried out by mobile can it, where you choose.
Generally, and long as they are from a reputable company, are ASE certified, and also fully insured and licensed, then the disadvantages of using a mobile diesel mechanic are very few.
Top Tips For Hiring Mobile Auto Mechanics
We've already covered most tips for hiring a mobile auto mechanic in this article already, but let's summarize by going through the main points you need to look out for.
Always look for a professional mobile repair company, that has a strong local presence, and good feedback online.
When you call to discuss booking a mobile car repair, always make sure that the price is agreed for a simple task, or a ballpark figure is given for more complex tasks.
Always make sure you get told exactly what guarantees on work, and warranties on parts, are provided, and what the process is if you're not happy, or if something goes wrong.
Don't let the mechanic commence a mobile auto repair task until they have explained exactly what they are going to do, how long it will take, and how much it will cost. On top of that, make sure that pricing, warranties, and guarantees are shown to you in writing.
Once the work has been completed, make sure that the mobile mechanic shows you the work has been carried out, shows you the replaced parts to prove they have been replaced, and also that the repair is demonstrated as fixed to your satisfaction.
How To Find Mobile Mechanic Near Me?
You can check on Google maps and find nearby mobile auto repair in your local area.
The bottom line is that if you are looking to get the auto repair or servicing work was done fast, at a time and place of your choosing, and to the highest standards, then a mobile mechanic is an unbeatable choice.
In this guide you will find: