In this guide you will find:
Don't Pay Full Price For On Your Next Oil Change Service
If you can't resist a candy, be prepared to deal with a toothache as well. Along the same lines, if you own a car, be prepared for a routine oil change as well because it keeps the car engine cool, lubricated, and moving. In other words, a car oil change is a necessary evil to keep the car dutifully running on the streets. It's like a healthy detoxification process for the car. But, not without a cost to your wallet. What lies behind this saga is that we chronically overspend, yet the car parts begin to fail. In this professional's guide, you will learn how to get a cheap oil change for your vehicle, the frequency of service, a list of current discount coupons, the cheapest auto repair shop to go for an oil change…
If your value your pristine dollars, you need to know everything about car oil change. From learning about the right frequency to change the car oil to finding the right service center and everything else in between, you need to know these car care tips to stay in harmony with your wallet and do not feel like a fraud to yourself. So, let's dive into this cheap car oil change guide to help you be a healthier person for your car and wallet.

This Guide Will Tell you…
The Frequency of Car oil change
How to choose the right motor oil
How to save money on every vehicle oil change
Current oil change coupons list
How to do it yourself
The average cost for the oil change
Finding the right provider for the Job
Pro tips here and there
The Frequency of Car Oil Change
Gladly enough, the cars of today come with high-tech engines to fully utilize the car oil present in them. So, we don't have to change the engine oil as frequently as we did in our father's time. Also, most of the modern cars out there can speak for themselves. This implies that the vehicle will tell you it's time for an oil change via the maintenance light or oil-life indicator. Typically, the computerized engine management system will alert you about oil change when the car has run around 7000+ miles.
That said, car oil change is car specific. Manufacturer recommendations vary from 3000 to 15000 miles. Therefore, your best bet would be to check the car manual to know the exact interval for an oil change. The car owner's manual will have more detailed and accurate information about your vehicle than any other mechanic out there. If you have lost the car manual, use an online search engine to find people who drive the same car as yours.
Pro Tip 1: It's not always about miles. If you don't drive a lot, you might still need to change the oil at least once a year to keep the oil fresh because car oil becomes less effective (degrade) with age.

Pro Tip 2: Don't stretch your luck too much on car oil change. Your car may not necessarily hit the graveyard from untimely oil change, but repair cost on a damaged engine may prove to be a far more expensive affair than routine car oil change job.
Pro Tip 3: Cars older than a decade may require more frequent oil inspection than the usual recommendation. So, show more love for the old fellows.
How to Choose the Right Car Oil?
The golden rule over here is not to use a car oil based on personal preference or anybody's advice. Also, one shouldn't fall head over heels for synthetic oil or any other oil unless there is a need to do so. The ideal roadmap over here would be to use the information provided by the car manufacturer. By doing so, you will be doing your car and your wallet a great favor. So, treat the car manual as a bible and stick with the car manufacturer's recommendation so that you can regulate the oil cost on a visit to an auto mechanic store.
Pro Tip 1: Always change the oil filter with every oil recharge. For those who don't know, filter quality is equally important as the oil itself because it keeps the car oil clean by preventing debris from harming the engine.

Pro Tip 2: You can take help from a local dealer or online car enthusiasts to check what oil goes into your beast in case you have unintentionally parted ways with the owner manual.
How to Save Money And Get Inexpensive Car Oil Change?
-Stay tuned for oil change special deals and discounted offers. Since every business owner out there wants to leave a strong footprint on the online arena, there is no shortage of discount coupons on car maintenance services. So, hunt for these discounted deals on Google before your next garage visit.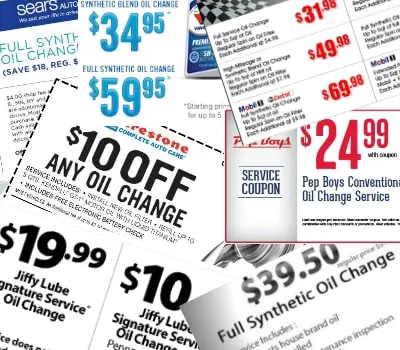 -Bring your own oil to the garage to avoid the superfluous mark up most dealers have on car oils. They will charge you less than usual for the oil change because you covered the bulk of the cost by bringing the car oil.  If you simply ask before a visit, most dealers will allow you to bring your own oil for a routine budget oil change job.
-Changing the car oil on your own won't be the finest hour of your life, but it can save you a bomb in the long run. Frankly speaking, the task is not difficult, but it requires you to be diligent (more on this later). By the way, the first oil change affair would prove to be a great confidence booster.
– Don't fall for unnecessary add-ons that the car mechanic may offer you at his den. Keep in mind that an oil change at a bargain price is a good money-making opportunity for a car mechanic. So, strictly avoid any kind of dreaded oil change upsells. As they say, 'Money saved is money earned.'
-For older vehicles, you can consider switching to synthetic oil to reduce unwanted stress on the engine. The switch can prove to be an economical affair in the long run because it will help you drive longer and further before changing the car oil again.
–As hinted before, never delay scheduled car maintenance services. If you do so, you will end up paying more later, than less now. For car low-cost oil change, you must act 'now' and not 'later' because things can go wrong pretty quickly once the car runs out of good running oil. So, be kind to your wallet by acting fast.
Current Oil Change Coupons List – March 2019
Firestone – $10 OFF High mileage and Synthetic blend oil and filter change OR $15 OFF Standard oil change
Goodyear – $10 OFF Full synthetic OR $5 OFF Conventional / Synthetic blend oil change
Jiffy Lube – $15 OFF Full synthetic / Synthetic blend / High mileage oil change OR $5 OFF Signature Service – 5 quarts of motor oil
NTB – $5 Conventional OR $10 OFF  Synthetic blend / Full synthetic / High mileage oil change – Up to 5 quarts of motor oil, Free tire rotation, TPMS reset, Visual brakes check, Wiper fluid top off
Grease Monkey – $8.00 OFF your first oil change – first-time customer special
Valvoline – $8 OFF Full Synthetic / Synthetic Blend / Diesel Oil Change OR $5 OFF Conventional oil change
Sears Auto Centers – $8 OFF Conventional OR $12 OFF High mileage OR $17 Full synthetic OR $23 OFF  Full synthetic oil change package which includes tire rotation, battery check, brake inspection
Pep Boys – $10 OFF Conventional OR $10 OFF Semi-synthetic OR $20 OFF Full Synthetic / High mileage oil change
Express Oil – $5 OFF "Ladies Day" – every Tuesday is "Ladies Day" when all ladies receive a discount on oil change service!
Meineke – $34.95 Synthetic blend / $54.95 High mileage / $69.95 Full synthetic oil change package which includes Tire pressure check, Free tire rotation, 23-Point inspection, Visual brake check
Midas – $10 OFF Premium oil upgrade
Monro – $14.99 Conventional oil change OR $10 OFF Synthetic blend / Full synthetic / High mileage oil change with visual inspection of car's major components & systems and free tire rotation
Pennzoil – $5 OR $10 off Pennzoil oil change service
Quick Change– $10 OFF Castrol Edge Synthetic Oil OR $8 OFF Castrol Magnetic synthetic blend, $6 OFF High mileage oil change
Tires Plus– $10 OFF high mileage / synthetic blend OR $15 OFF standard / full synthetic oil change
Tire Kingdom– $5 OFF  Conventional OR $10 OFF Synthetic blend / Full synthetic oil change
Mr. Tire– $14.99 Conventional OR $10 Off Synthetic Blend / Full synthetic oil change
Take 5 Oil– $5 off various other service discounts
Car Oil Change: How to Do It Yourself
If you don't like waiting or spending money on car oil change, feel qualified enough to give the task a shot on your own, provided you are not one of those guys who is known for messing things up. To change the car oil on your own merits, you will have to figure out how to safely slide under the car, how to collect the used oil, how to replace the filter, and then how to refill the car with the right oil.
Tools for the Job: You will need a jack stand, a drain pan, a socket wrench, a funnel, and an old T-shirt (optional) for the job. Unless you break these tools, you will have to buy them only once. Of course, before you get started, determine the grade and amount of oil needed—both should be listed on the owner's manual. Moreover, it's a routine practice to replace the oil filter when changing the car oil, so you will have to acquire a new filter as well. If the filter was previously tightened too much, you would also require a filter wrench to loosen it up.
Step 1: Raise the front of the car with a properly supported floor jack so that you can easily crawl under the car. Go for a hydraulic jack versus a standard jack because it's safer than a standard one.
Step 2: The next step would be to locate the oil drain plug. With the help of a socket wrench, remove the large nut on the engine's oil pan, and position the drain pan underneath the plug hole.
Step 3: Remove the oil filter with the help of a filter wrench and drain all the oil from it. Allow a few minutes for all the oil to drain out.
Step 4: CAUTION: The oil inside can be hot, so allow it to fall into the drain pan naturally. Do not let this step slip away from your mind or else you will fall victim to serious burns.
Step 5: Once the oil drains off, install the new filter. Before installing the new filter, apply a tad bit of motor oil to the new filter gasket. This can avert leaks or cracks from the gasket.
Step 6: Once the new filter is installed (hand tight only), it's time to fill the engine with new oil by removing the filler cap under the hood. (quantity and oil type as prescribed in the manual)
Step 7: Start the motor for 30 seconds and then shut it off. This will allow the new oil to settle in. Inspect the area beneath the car for potential leaks. Finally, lower the car to ground level.
Congrats! You have successfully replaced the car engine oil by following these steps. Keep in mind that the steps outlined above need to be followed in the correct order to get the job done right. If you are still on the fence, take your car to the mechanic, watch him do everything, and try it on your own the next time around.
Pro Tip 1: Change the oil when the engine is warm to make sure that the sludge flows smoothly. Turn the engine on for few minutes before draining the oil. Keep in mind that the oil shouldn't be hot, or else it can pose severe health risks.

Pro Tip 2: Do a dipstick oil analysis before and after the job to make sure that you have put the right quantity of oil in the car.

Pro Tip 3: If you own a truck or an SUV, you may not feel the need to raise the car from the ground. It may be high enough to allow you to get underneath the car to change the oil without any fuss.

Pro Tip 4: When you get rid of the old filter, make sure to remove the filter gasket with it. If it stays stuck in the engine, it will call for a bigger expense down the road.

Pro Tip 5: Make sure to use a drain pan that can handle the volume of oil expected to flush out of the engine. The owner manual will give you a good suggestion for the same.

Pro Tip 6: Most people are not aware of the fact that the used oil can be recycled. So, pour the oil into empty bottles and carry them to a local parts store for recycling instead of letting it pollute the environment by pouring it down the drain.
The Average Cost for Oil Change
Frankly speaking, nothing is etched in stone over here. The cost may differ from one service station to another. But, expect to pay anywhere between $20 to $50 for an engine oil change. That said, the average cost might bump up to $40 to $70 if you go for synthetic oil. Detailed information on this topic can be found here. Trust us, the information over there is a pure gem, and honestly, very helpful. So, do spare a few minutes on the link to know more about the average cost for an oil change.
How to Find Cheap Oil Change Near Me
There are many things that you can do outright to choose the right service center for oil change such as checking online reviews, visiting websites of the shops you plan to visit, and checking with people for personal recommendations. Once you have many opinions, you can make a list of top three shops and visit them all. Finally, you can choose a provider that offers you the confidence of being professional, customer oriented, user-friendly, budget-friendly, and trustworthy. Of course, don't be afraid to ask how long they have been in the business. The more the experience, the better could be the final outcome.
Pro Tip 1: Don't go by the reviews that you see on the car repair websites because the companies themselves control what gets published on the site. Instead, place your faith on review websites found on Google, which are controlled by third parties.
Final Words About Low Priced Oil Change:
Hopefully, you got to know everything about cheap oil change without reading half a dozen glossy car magazines on the same subject. C'mon, reading them all would have fried your brain. So, the least you can do is leave a comment below, and we would be happy to keep in touch with you!