Having well-maintained and reliable brakes is probably the most important aspect of any vehicle's safety. Making sure that your car has high-quality brakes that are properly installed will go a long way in ensuring that you and your passengers remain safe on the road. Here you can find information about estimated brake pad replacement cost, how to know when you need new brake pads, how long do brake pads last on average, what does a worn brake pad sound like, how much is a front and rear brake job with parts and labor, where is the cheapest place to get brakes done…
While the federal government has established the quality standards for brake installations, they haven't really provided any regulations regarding replacement pads. Meanwhile, the National Highway Traffic Safety Administration (NHTSA) reports that brake-related issues are among the highest complaints that they receive.

Average Brake Pads Replacement Cost
Clearly, one needs to be acquainted with knowledge on how to change brake pads, and how they work, as well as brake pads replacement costs and the various options that you have available to you as a vehicle owner in order to make an informed decision on the matter. Brake pads replacement cost can vary from $99.95 to $170 per axle.
Brake Pads Replacement Cost
Firestone Standard Brake Service
What Are Brake Pads?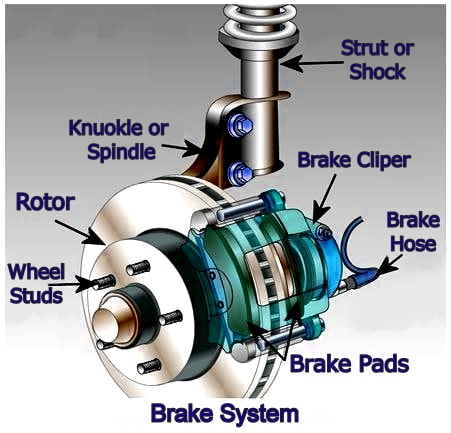 Brake pads are an essential part of the disc brakes in your car and can be used for other applications as well. They usually have backing plates made from steel with friction material on top, and the pads are put in place to maintain the car's thermal energy. That's why two brake pads are necessary so that they can create friction. What happens is that brake component well known as the caliper, squash the brake pads together, effectively slowing the rotor down, while the friction material from the brake pads coats the disc in a dull grey color. This enables the disc and the brake pad to stick to each other, thus providing enough resistance to stop the car.
Most disc brakes have a rotor with two brake pads, which are attached to the wheel hub with a caliper, and each caliper usually has two brake pads as well. That said, racing calipers can easily use up to six pads with different frictional properties. The disc wear rates differ from one material to the other, and the best way to avoid brake fade is to replace the brake pads on a regular basis. Luckily, most brake pads come with a mechanism that automatically 'reminds' the driver when a replacement is due.
Brake Rotors Replacement Cost
This is usually made possible through a small central indentation on the brake pad, whose disappearance signals that the pad has reached the end of its service life. Another method involves inserting a thin ribbon of soft metal inside a trench, and the exposure of the metal will cause the brakes to make a squealing sound. Then, you'll see a warning light on your dashboard letting you know that your brake pads are getting thinner than they should be.
When to Change Brake Pads?
Here're a few brake pad replacement indicators to look out for:
Wear indicator on the dashboard
If the brake pad's friction material is so worn-out that there is the only 2mm left on the pad backing plate, then you probably need to have your brake pads replaced. Fortunately, most modern vehicle models feature electronic wiring that enables them to use the dashboard as a means to alert the driver when it's time to start replacing brake pads. Familiarize yourself with how the symbols look by studying the owner's manual of your car.
High pitched squeal when braking
Any vehicle will usually make a distinctive squealing noise when the brake pads are so damaged that they're worn out through to the backplate, and this usually happens no matter if you're applying the brakes. If you hear this noise, then get your brakes inspected immediately. There may be scraping noises also due to the worn-out brake pad, and at this stage, your vehicle won't be safe until you've replaced the pads.
Brake pedal pulsation or vehicle vibration
As time goes by, the wheel hub may experience excessive runout of up to > .002 inches, or the brake rotors will develop extreme variations in the thickness of up to >.001 inches. These types of irregularities are usually accompanied by a pulsating steering wheel or brake pedal, which necessitates a pad replacement or rotor resurfacing.
A vehicle pulling or wandering on braking
If your car veers to one particular side when braking, the suspension might be misaligned somehow or perhaps the brake caliper is sticking and there may also be tire defects. Your mechanic might decide to do a brake change or even perform additional repairs if the situation requires it.
High mileage on existing pads
Whether you notice one of the above-mentioned symptoms or not, you should always take your car in for mechanical service, so that the friction material on your car's brake pads can be inspected for any defects, and this should ideally be done every 10, 000 miles.
Brake system warning lights
If a maintenance reminder shows up or warning lights start flashing on the driver information system of your car, then you should take your vehicle in for maintenance or inspection ASAP.
How Long Do Brake Pads Last?
Oftentimes, brake pads can last for up to 30,000 to 35,000 miles. However, this also depends on the type of vehicle and the person who's driving it. For instance, a person who drives on rugged terrain will probably have to get their brakes replaced more often than someone who usually drives in urban areas or on roads where there's a lot of commuter traffic. Some drivers have the habit of riding the brakes by unnecessarily pressing onto them. Doing this accelerates the wear and tear on brake pads a great deal, so you should be mindful of it.
By staying mindful and aware of your car's movements and sounds you'll be able to pick up the signs when your brake pads need to be replaced.
Factors That Affect the Cost of Brake Job
Vehicle's make, model, and year
Brand and type of brake pads and rotors used
Regardless of whether you do it yourself or go to a local mechanic or the big dealership
Cost of labor in your area
How to Estimate Replacement Cost
Brake replacement cost primarily depends on the type of parts that will be used by the mechanic during the service. Regular pads and rotors are usually reasonably priced but will make a substandard repair appear to be more than it really is. Our recommendation would be to find out which parts are to be used during the service, and ensure that they're brand name equipment. Most service centers will be willing to provide you with such information over the phone, and if the one you first contact doesn't oblige, then feel free to try another company. Find out details such as how much do brake pads cost and how much to replace brake pads, or rather ask how much does a brake job cost? this service, in addition to oil change, is one of the most important and mandatory for the reliability of the car.
Most good service companies offer a guarantee for their work and the products that they provide. The service provider should also provide the warranty details along with the amount when they quote you. You need to check the details of the service you'll be receiving beforehand because not all brake replacements are the same.
Additional replacement tasks such as installing new calipers or rotor resurfacing can escalate brake service cost. In fact, the cost of rotors and brake pads can be twice as much or more than the typical brake job cost, but research shows that improperly installed brake systems and the use of poor quality equipment are the most common causes of brake-related accidents and complaints. So, avoid this by making sure that you only use reliable parts.
Calipers Replacement Cost
So, the replacement costs to consider when you're not getting your car serviced on a regular basis include brake fluid flush cost, brake pads replacement cost, brake fluid change cost, brake pads and rotors cost, as well as brake pads replacement and brakes and rotors cost combined.
What to Expect
Paying for brake repair cost will save you a lot more time and money in the long run than dealing with additional issues associated with worn-out pads. By maintaining your brake pads on a regular basis, you'll be avoiding incidents like having the surface of the drum or rotor touch damaging metal, which would necessitate a costly rotor replacement.
Typically, a complete brake service involves resurfacing the rotors and replacing the shoes and pads. Occasionally, the service will also include a brake fluid or caliper replacement. On average, a full brake repair service should take a couple of hours at the most, depending on the number of pads and axels that are being changed. Your mechanic will probably also check your rotor's thickness level in order to compare it with the manufacturer's recommended levels, before deciding on whether or not it should be serviced.
How to Install Brake Pads
If you consider yourself quite handy and are not afraid to get your hands dirty, then you should totally replace your brake pads because it'll save you a lot of money when you do it on your own. However, if the job requires a caliper or rotor replacement, then you should have a professional do it for you because that's a bit more complex. Always find out how much brake pads cost beforehand so that you can budget accordingly.
Here are the steps that you should follow when changing brake pads and rotors:
Untie the lung nut so that you can easily take out the wheel from your car
Take out the lower bolt that's on the caliper
Turn the caliper around so that it's easier for you to access the brake pad assembly.
Take out the clips that are meant to keep the pads attached
Install new pads and put on some lubricating grease.
Pull out the pistons by popping the brake fluid reservoir cap open.
Gently glide the caliper into place and tighten the bolt situated on the lower side of the caliper.
In this guide you will find: