Every car has a water pump that's made from iron and aluminum, and its job is to maintain a cool temperature throughout your vehicle when the engine is running. The water pump also features a fan-like impeller which mixes coolant and water in your car's circulation system. This process is important because it prevents the engine from getting too hot.  Below you can read about car water pump replacement cost, signs which indicate that the pump should be replaced and how to save money on that service.
Water Pump Replacement Cost
The cost for replacing a water pump can be anything from $280 to $700 depending on the brand and model of your car, and this cost usually includes both the parts required for a new water pump installation, as well as labor. The average labor costs are $200 and estimate parts costs are $250.
Keeping that in mind, you might as well get the timing belt replaced in the process just so you can get the most out of your money in terms of the labor costs involved. Whatever you do, never pay more than $800 to replace a water pump.
What Is Car Water Pump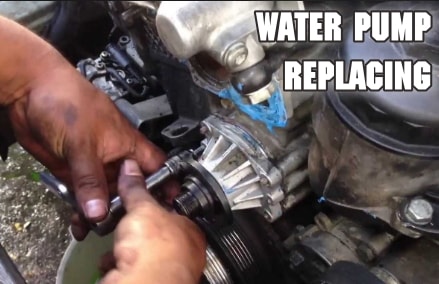 The water pump is ideally placed next to the engine and it works by constantly circulating to create cool air. It then becomes the drive belt's responsibility to make sure that the water pump is working optimally. So, the water pump is an essential part of your car and when it doesn't do its job properly, your engine will end up overheating which can cause some serious permanent damage to your car.
Signs That Water Pump Need To Be Replaced
Check your water pump regularly to make sure that it's not malfunctioning. You can do this by looking for the coolant right beneath the car. You can also get a professional mechanic to check the cooling devices in your car for possible leaks. Luckily, a broken water pump is easy to spot because the coolant starts to drop from the seals as soon as it breaks down.
Ideally, the coolant in your car should be replaced every 50,000 miles, or every time you take your car in for a service. Still, there are certain signs and symptoms that you should look out for that might indicate that your water pump needs replacement.
What are the symptoms of a bad water pump?
Some of the tell-tale signs and clues that you should look out for include:
The coolant is leaking out of the water pump, releasing a liquid that's either yellow, green or red in color
Your car keeps overheating
Your car refuses to start
Sometimes you'll hear a loud whining noise coming from your engine
The good news is that having your water pump replaced is relatively affordable, especially if you get it done at the right place. Check our car water pump replacing prices in the table.

Where To Replace Car Water Pump
Oftentimes, the best place to go for a good rate on water pump replacement is at a reputable mechanic than at a dealer, as the latter's rates can be quite expensive. Just make sure to do some background research on the mechanic before you hire them to make sure that they've got a good track record and don't rip you off.
Process Of Water Pump Replacement
As your mechanic replaces the water pump, they'll start by draining all the coolant in the car, and then they'll take out the drive chain as well as the timing chain to prevent it from blocking access to the water pump. After that, the mechanic will install the new coolant and water pump, as well as the drive chain and timing belt if necessary.
Also, it's important to get a quote from the mechanic prior to them starting with the work and make sure to check the coolant regularly so that you have enough time to pick and choose your mechanic instead of just going with the first one you find because you're in an urgent situation.
Also, car owners with the latest release models or high-value limited edition vehicles can expect to pay more for a water pump replacement job than those with regular vehicles, and replacing the fan belts and seals in addition to the water pump will also add significantly to the overall cost. Whatever the case, it's important that you get the replacement done no matter how seemingly exorbitant the price tag is because the last thing you want is to hire a second-rate mechanic who's going to do a poor job.
How much time does it take to replace a water pump?
On average, the water pump replacing takes about 2.5 hours. Of course, it all depends on the model of the car and the experience of the mechanic.
How To Save Money On Water Pump Replacement
Oftentimes, the best and easiest way to save money on a repair of this magnitude is to just purchase the pump separately, which you can do online for about $40. Just keep in mind that you'll still have to pay more for the labor costs so you should factor that into your budget as well. However, the best way to avoid all these costs is to make sure that you check your coolant on a regular basis so that there are no leaks coming out of it that can damage the water pump and other parts of your car.
In this guide you will find: