In this ultimate guide for 2023, you will find how much does an oil change cost at Jiffy Lube, Walmart, Valvoline, Sears, Midas, Goodyear, Firestone, NTB, and some other local auto service centers. Also, here you can find a price comparison to get the best possible oil change price in your local area.
We analyzed costs for all types of motor oils (standard, synthetic-blend, full-synthetic, high mileage) and give you useful tips on how to save money and when should you get your oil changed. Also, you will learn how to get a cheap oil change for your vehicle, a list of current special offers, and the cheapest auto repair shop to go for an oil change…
Oil, that magical golden elixir that keeps your automobile engine in pristine form, is often the most overlooked aspect of maintenance.
The mileage takes precedence over the owner manual or the '3000 miles or every three months' thumb rule. To make matters worse, most people fail to notice the subtle warning signs that vehicles start to throw at them, indicating that it's time for an oil change.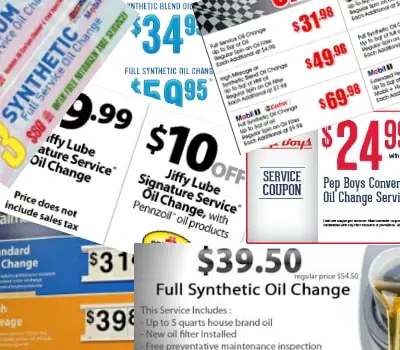 Ticking noise when the engine starts, a rough idle, a knocking sound and a stubborn gear shift are telltale signs that you need to get the oil checked. If you continue to use your vehicles with sludgy, contaminated and dirty oil, then it can severely affect the longevity of the engine.
Rookie mistake folks! If you are guilty of the same, then the time for an oil change is now. The tough part though, is far from over, for the next question beckons.
What will it cost to change the oil?
Well, to be honest, an oil change is the cheapest form of preventive maintenance that you can invest in for your automobile. Having said that, if you are a student on a frugal budget or a first-time car owner, there's every possibility that a sneaky sales rep might take you for a ride. Here you can read the ultimate guide on how to get the cheapest oil change near you.
So, it pays to be informed and updated about the price of the oil change at all times.
How much does an oil change cost?
That depends on three key variables.
The type of motor oil used: There are four main varieties to choose from. At the top of the range is synthetic oil, which offers better resistance to extreme temperatures and contains additives to protect your engine. Synthetic blends come next followed by high mileage motor oil. Last but not least, you have conventional motor oil. If you are unsure about which one to pick, refer to your owner's manual. If the recommendation is for synthetic, don't pinch your pennies and opt for a cheaper variety. Because of the premature wear and tear that occurs will cost you a lot more in the long run.
DIY vs. Paid services: There's always the temptation to change the oil yourself. And it does have its perks. Zero downtime (or so you think), fewer chances of unexpected damages, no sleazy upsell or hidden charges. But, it's not recommended if you are doing it solely to save some money. Because it's a time and labor-intensive task. You will be spending hours watching YouTube videos, borrowing tools (or buying them) and heading to your buddy's garage if you don't have a jack stand to safely lift the vehicle. When you compare that with the convenience and cost of getting a quick oil change done at an auto repair service, it's a no-brainer.
The Auto repair center: The average cost of oil change varies from one auto repair center to the other. While the discrepancy isn't huge, there will be some variation in the cost of the oil, labor charges and the cost of the filter. For example, some repair centers emphasize that you buy premium filters only. That's a $5 difference right there. It all adds up.
If you are curious about the average cost of the oil change at some of the biggest auto service repairs, then you are at the right place.
Sit back, grab a tub of popcorn and enjoy this read.
The Average Cost for Oil Change
Frankly speaking, nothing is etched in stone over here. The cost may differ from one service station to another. But, expect to pay anywhere between $20 to $50 for an engine oil change. That said, the average cost might bump up to $40 to $70 if you go for synthetic oil. Trust us, the information over there is a pure gem, and honestly, very helpful. So, do spare a few minutes on the link to know more about the average cost for an oil change.
Walmart oil change prices
Walmart Auto Care Centers charges from $19.88 for Pit Crew Oil Change to $49.88 for a full synthetic oil change.
With a motto that goes, 'Auto Service as you shop' and 2500 centers around the United States, it's no wonder that Walmart Auto Care Service is one of the most widely used repair centers in America.
You can park your car while you go shopping and by the time you pick your groceries and other essentials, your car has fresh oil. Bliss!
Walmart oil change prices are extremely competitive and they offer four different services for car owners to choose from.
Pit Crew Oil Change: This is their least expensive service and includes 5 quarts of conventional motor oil, a brand new oil filter, lubrication for the chassis if applicable, a battery check and a pressure check for the tires. As of now, Walmart uses Quaker State® Advanced Durability™ motor oil. But this is subject to change at any time. The Pit Crew Oil Change service is priced at a very affordable $19.88.
Standard Oil Change: A standard oil change will cost you $29.88 at Walmart auto centers. It includes all of the above-mentioned services. The only difference is that they use Featured conventional oil which is a step up from the Quaker State variety.
High Mileage Oil Change: The Walmart cost for High mileage oil is $39.88. It includes all Pit Crew services with high mileage oil or GM Dexos compliant semi-synthetic oils. This service is recommended only for vehicles that have completed more than 75000 miles.
Power and Performance Oil Change: If you were curious to know much you must pay for the Walmart synthetic oil change, then it's called the power and performance service. And it's priced at $49.88. This is a premium service and they use the best quality synthetic motor plus oil, which is a recommendation for most modern vehicles.
Apart from the oil change service, you can also avail a fuel system service, where an oil change is clubbed with a complete cleaning of the fuel system, battery, tire, and other services at Walmart.
Overall, Walmart Auto Care Services have good customer reviews. Their prices are reasonable and services prompt. With some luck, you can also avail yourself of some Walmart oil change coupons further reducing the cost.
Walmart Prices
Power and Performance Synthetic Oil Change
Please remember that this Walmart cost for a motor oil change is the national price. There might be a slight variation in these prices at local stores (State-dependent)
Jiffy Lube
Jiffy Lube rivals Walmart in popularity and their 2000 odd auto repair centers spread across America attract millions of customers each year.
But unlike Walmart, which more or less has a uniform pricing pattern across the country, Jiffy Lube prices vary in states and even in local outlets within the same states. Jiffy Lube attributes this to the disparity in business costs, change in government regulations, and variation in pricing from local suppliers. The price difference might only be slight though.
Jiffy Lube Prices
Jiffy Lube charges from $29.99 for conventional oil change up to $79.99 for a full synthetic oil change.
Just like Walmart, they offer a slew of different oil change services that vary in price depending on the quality of the oil.
Jiffy Lube Prices
Full Synthetic Oil change
Conventional Oil Change: Up to five quarts of conventional motor oil, an oil filter, and other standard service checks are included in this basic service. It is priced at $29.99 for Formula Shell Oil and at $44.99 for Pennzoil.
High Mileage Oil Change: The Jiffy Lube oil change cost for high mileage oil is approximately $8 per quart and is priced at $59.99. The oil used is Pennzoil high mileage oil and apart from protecting engines that have covered more than 75000 miles, the Pennzoil High Mileage oil is also known to help restore compression that depletes as the engine ages. If you have any leaky seals, those will be replenished as well.
Synthetic blends: The Jiffy Lube price for synthetic blends start at $59.99 and the oil used is Pennzoil Synthetic blend which the manufacturer claims, keeps your pistons at least 10% cleaner than what the competition does.
Synthetic Oil change: The Synthetic oil change service starts from $79.99. If you choose Pennzoil's Platinum synthetic oil, the price is bumped up slightly to $89.99. And if you have deep pockets or prefer to use only the best synthetic oil for your automobiles, then you can choose the Pennzoil Ultra Platinum oil which is priced at $109.99.
The Jiffy Lube Signature Oil Service
Apart from a standard oil change service, Jiffy Lube's signature service is extremely popular among car owners.
It is a comprehensive maintenance service that inspects various essential systems like coolant levels, wiper blades, chassis (lubrication), brake fluid levels, air filtration systems, Differential/transfer case fluid, Power steering fluid, tire pressure, transaxle fluid, and exterior lights, in addition to changing the oil and oil filter.
While the basic signature service includes conventional oil and starts from $39.99, you are free to select any oil from their lineup.
Alternatively, the Jiffy Lube technician will inspect the vehicle and recommend the best solution.
Jiffy Lube is also one of the only auto repair services in America that offers free top-ups of the type of motor oil that you originally purchased from them, provided you visit between 3000 miles. Here you can find Jiffy Lube oil change coupons.
Valvoline
Valvoline's 1400 quick lubes or express service centers are preferred for their drive-in oil change service which performs 18 maintenance checks, changes your motor oil and oil filter, all in a span of 15 minutes while you are seated in the car.
Isn't that just amazing? If you are short of time or hate spending time in a waiting room while your car is serviced at a snail's pace, you know where to head to. But with a mindboggling variety of oils to pick from, it is no wonder that first-time visitors to a Valvoline quick lube feel overwhelmed.
Here's an estimated price list of Valvoline prices in 2023:
Valvoline instant oil change: Valvoline's instant premium conventional oil change starts from $39.99. The service includes 5 quarts of Valvoline Daily protection conventional motor oil, the 18-point maintenance check that we mentioned earlier and a Valvoline oil filter replacement. This is Valvoline's flagship offering and the oil is touted by many car owners to be way better than aftermarket brands of conventional oil.
Valvoline High Mileage Oil: This is where it starts to get tricky. Valvoline offers two types of high mileage oil. There's the MaxLife™ high mileage oil, which is the standard oil recommended for vehicles that have ticked past 75k on the odometer and they also have a Valvoline Full Synthetic with MaxLife™ technology integrated into it. So, if you wish to replace your high mileage oil with synthetic oil instead, then this blend might be a good pick. It is priced at $89.99.
Valvoline synthetic oil change: The SynPower™ full synthetic oil is Valvoline's bestseller. This is a premium quality synthetic oil that is often recommended for luxury vehicles. It cost $46.99
Synthetic blend: $36.99 Valvoline's synthetic oil blend is called DuraBlend™. It is a blend of Valvoline's synthetic and conventional oils and is cheaper than a full synthetic oil replacement.
Other types of oil: Last but not the least, Valvoline also offers heavy-duty engine oil for Diesel vehicles, 2-stroke engine oils for vehicles with smaller engines, 4-stroke engine oils for ATVs and motorcycles and racing motor oils for sports cars. The prices for oil changes for these vehicles are location-specific.
Valvoline's top-rated service
Valvoline is one of the few quick lubes in America that has a near-flawless customer rating. They are friendly, skilled and go about their job fast.
Not to mention that they are a lot cheaper than getting an oil change at a dealership. With a variety of oil change packages to choose from and some great Valvoline oil change coupons are thrown in, it's almost a no-brainer decision.
Valvoline Prices
Valvoline Instant Oil Change Price
Full Synthetic Oil Change
Synthetic Blend Oil Change
How much does an oil change at Firestone cost?
Firestone Complete Auto Care charges from $24.88 for Standard Oil Change to $49.99 for a full synthetic oil change.
Firestone Complete Auto Care has more than 1700 locations around the United States. It's not a quick lube mind you. But their services are often cheaper than a quick lube franchise. And they offer some great discounts on their website itself.
Firestone oil change, for example, is among the cheapest in the business.
Firestone standard oil change can be availed for just $24.99 currently thanks to a discount. That's at least $5 cheaper than Jiffy Lube.
The only brand that can beat the price is Walmart with their Pit Crew service.
Surprisingly enough, both Firestone and Walmart use the Quaker State Conventional Motor Oil in their standard package. For all other varieties of oil (high mileage, synthetic blends and full synthetic), Firestone uses Pennzoil variants, which are compatible with most manufacturer recommendations.
So, you can choose from Pennzoil Platinum full synthetic, Pennzoil Platinum Euro Full synthetic, Pennzoil Gold with Dexos blend and Pennzoil High Mileage.
The Firestone cost for full synthetic starts at $49.99. But a $10 discount is available year-round. Like we said, great prices.
For heavy-duty and diesel vehicles, they use Shell Rotella engine oil.
Along with the standard oil and filter replacements, Firestone also offers the mandatory 19-point preventive tune-up maintenance checks, brake pads and rotors inspection, and vital fluid top-ups for free. Also, here you can find some valid Firestone oil change coupons.
Firestone Prices
Firestone Standard Oil Change Price
Full Synthetic Oil Change
Synthetic Blend Oil Change
How long does it take to get an oil change done at Firestone?
As implied earlier, it's not one of those walk-in and walk-out service centers. So, the time taken for an oil change depends on the number of customers in the queue.
The estimated time is 30 minutes. But it can be more or less. That might seem steep, especially when you compare it with 10 and 15-minute oil changes. But on a positive note, you know that they don't cut corners with your maintenance checks.
Getting an oil change done at Pep Boys
Oil changes at Pep Boys are all about cheap prices and fast services. You can 'Trust the boys to get you there after all. They often have large hoardings on state highways offering aggressive discounts on their services. And their prices are on par with Firestone for standard oil change packages and are cheaper than most for some of the other pricier packages.
The Quaker State conventional package is priced at $24.99 with a discount thrown in. It comes with up to five quarts of technician-recommended Quaker State conventional oil variant, an oil filter replacement, tire rotation, tread depth, and pressure check and a courtesy vehicle check, which is similar to the maintenance checks and fluid top-ups offered by most auto repair centers.
The Pep Boys' cost for high mileage motor oil is $34.99 with a discount applied. It includes up to five quarts of Pennzoil High Mileage or synthetic blended Motor Oil and the usual extras.
A Pep Boys full synthetic oil change is priced at $54.99 with Pep Boys oil change coupons (the regular price without a discount is $79) and they use the Pennzoil Platinum Synthetic oil, which is top of the range from the brand. You can also choose the Pennzoil High Mileage Synthetic Motor Oil instead if your car has covered 75k miles already.
If you choose Mobil 1 instead of Pennzoil, the same synthetic oil package will cost you $59.99.
The prices are pretty reasonable, they offer the same extras as the competition does and they enjoy a great reputation as well. There are 930 outlets all over the country. So, you can easily find one close to your home.  Hard to go wrong with Pep Boys.
Pep Boys Prices
Full Synthetic Oil Change
How much is an oil change at Midas?
Midas is one of the most reputed auto repair centers in the world and they have over 1300 outlets across the United States and Canada. Their services are generally considered pricier than the rest.
For example, Midas standard oil change package starts from $33.99. That's a steep hike from the $20 oil change offers you usually come across, especially if you are to factor in the additional shop fees and taxes that would apply.
However, they always have some great discounts on offer. Currently, we were able to spot a $7 off discount on their oil change service which reduces the price to $27. That's almost identical to the rest of the brands.
Even better, we saw a Midas oil change coupon for 'BUY 1 GET 1 FREE OIL CHANGE' which gives you your next oil change for free within 6 months with some terms and conditions applied. That makes it completely worth the few extra bucks that you spend at Midas. If you wish to switch the stock New Quaker State conventional oil in the standard package with Valvoline, Pennzoil, or any other premium brand, then $10 gets added to the base price.
The Midas price for high mileage oil starts from $48.99 and their full synthetic oil change service (5/30, 5/20, 10/30, 0/20 synthetic oils) starts from $69.99.
Midas Mobil 1 full synthetic oil change is the priciest of the lot and is priced at $84.99 A non-stock filter will cost you an additional $10. All packages include up to 5 quarts of your selected oil, a new oil filter, and basic preventive maintenance checks.
Midas Prices
Standard Oil Change Package
Full Synthetic Oil Change
Midas has a great reputation among customers and you can trust the Midas touch as they say.
How much does an oil change at Sears cost?
Despite being one of the oldest brands in the automobile repair business, Sears has a surprisingly cheap oil change.
For example, Sears standard conventional oil change package is priced at $19.99. That's neck to neck with Walmart. Guess the old rivals just cannot stop competing.
If you opt for high mileage, it will cost you an even $36.99 at Sears Auto Centers. So, the difference in price reduces as you go higher in the hierarchy.
At Sears, a full synthetic oil change will cost you a very reasonable $51.99. There are garages that charge you $70 at least for a full synthetic. And they have a bundle that includes a full synthetic oil change, a synthetic filter and a tire rotation which is priced at $64.99.
Like all other brands in the biz, Sears oil change coupons can be availed to further reduce the prices.
Sears Prices
Full Synthetic Oil Change
Sears uses Valvoline motor oil in all their packages.
The premium conventional in the standard package, Maxlife in their synthetic blend package and Synpower in the full synthetic package. All packages include up to 5 quarts of oil. If your vehicle needs more, then prices per quart vary from one outlet to the other.
Complimentary services include topping off vital fluids, chassis lubrication, tire inflation and an overview of essential systems in the vehicle. And if you are a shop your way member, you can avail of buyback points for each package that you choose.
What is the average oil change price at Goodyear?
Goodyear has been synonymous with automobile tires for decades and their recent foray into auto services has been equally well received.
They have a vast network of auto service shops or lubes that have very competitive rates for an oil change.
Goodyear's most basic package for a conventional oil change is priced at just $18.95. That's the cheapest oil change among all popular auto repair services. So, if you an old-schooler who still believes that conventional is the best, you know where you can get it for the lowest price. Check our collection of Goodyear oil change coupons here.
The Goodyear price for High Mileage oil starts at $43.95. If you have a GM vehicle from 2011 or a newer model, then you will require the Durablend or Dexos compatible oil which is priced at $49.95.
Full synthetic starts at $63.95, which is a little higher than some of the other brands that we have reviewed.
Goodyear Prices
Full Synthetic Oil Change
Which type of motor oil you can buy at Goodyear Auto Service Centers
Goodyear uses Valvoline premium oils only though. So, if you prefer Pennzoil or Mobil 1, then you'd have to head to Midas or Pep Boys for an oil change.
How much does it cost a synthetic blend and full synthetic oil change?
A full synthetic oil change always looks steep when you compare it with blends or conventional motor oil change. But does your car really need synthetic? Or can you afford to cut corners and opt for cheaper varieties?
Much has been written and spoken about the perpetual synthetic vs. conventional oil debate. So, we won't add further to it.
The key takeaways that we have gathered from experts are this.
Frequent short trips, extreme temperatures, high performance (hauling goods) = Synthetic oil
Frequent oil changes, normal usage, normal temperatures = Conventional oil
A blend is a middle ground between the two. It gives you better performance than conventional but not as good as a full synthetic.
The average cost for a full synthetic oil change range from $65 to $85 depending on the location, the car model, the oil brand and the number of quarts of oil needed.
This reduces significantly if you choose a synthetic blend instead, where the average pricing is $35 to $45.
All said and done, your owner's manual is your best resort before springing for a better-sounding deal. Sometimes, your existing warranty on the engine for potential problems can get voided if you don't comply.
If you own one of the newer cars from European carmakers, like Volkswagen, Audi, Mercedes-Benz & MW or some high-performance models from Subaru and Honda, then it's a given that you'll need a synthetic oil change.
How much do I have to pay for a high mileage oil change?
An old car that you love to the moon and back is most likely an irreplaceable part of the family.
All the more reason for you to be prompt with oil changes. Because once that odometer starts to tick beyond 75000, you know that the engine is no spring chicken. It will start to react sooner to sludge, heat, cold, dirt, just about anything that it could once endure without as much as a sputter.
High mileage oils are your best bet. These have a higher viscosity and are formulated with seal conditioners that will swell the existing crankshaft seals, thereby preventing hardening and leaks. Also, these oils will prevent the damage caused due to sludge. While they aren't as expensive as full synthetic oils, they aren't cheap either.
The average price for High mileage oil change is $55 to $60 for Pennzoil or Mobil 1 at most auto repair centers. You can get cheaper brands for $45 to $50 though.
But we don't really recommend opting for cheap brands when the difference in price is hardly a few bucks.
How much does a standard (conventional) oil change cost?
The prices for conventional oil changes have really reduced in the past few years. Some attribute it to an increase in competition. Others cite fluctuating oil prices as a probable cause. Either way, we aren't complaining.
If you use conventional motor oil, then you are in luck. You have some great prices on offer.
The cheapest Standard oil change that we've found so far is at Goodyear. It's $18.99 normally and with a $5 discount, you get the service for an incredibly cheap $13.99. As always, confirm whether the coupon is applicable at the Goodyear outlet that you head to.
The next best price for a standard oil change is at Walmart and Sears. That's $18.99 with the cost of a filter included. Walmart even gives you some nice freebies.
Most of the other auto repair services have an average cost of $19.99 to $27 for the standard oil change. Anything more than $30 is considered a rip-off.
Standard Oil Change Prices
How to Choose the Right Car Oil?
The golden rule over here is not to use car oil based on personal preference or anybody's advice. Also, one shouldn't fall head over heels for synthetic oil or any other oil unless there is a need to do so. The ideal roadmap over here would be to use the information provided by the car manufacturer.
By doing so, you will be doing your car and your wallet a great favor. So, treat the car manual as a bible and stick with the car manufacturer's recommendation so that you can regulate the oil cost on a visit to an auto mechanic store.
Pro Tip 1: Always change the oil filter with every oil recharge. For those who don't know, filter quality is equally important as the oil itself because it keeps the car oil clean by preventing debris from harming the engine.

Pro Tip 2: You can take help from a local dealer or online car enthusiasts to check what oil goes into your beast in case you have unintentionally parted ways with the owner manual.
Things to know before going for an oil change
Most car owners procrastinate an oil change for reasons best known to them. Do not be that car owner. If you feel that your car needs an oil change, it probably does.
Here are a few things to keep in mind before you head out for a quick change of oil.
The right time to change the oil: If your car doesn't have a service reminder alert system, your owner's manual is the holy grail of car maintenance for you. Refer to it and stick to the recommended schedule. Everything else, including the mechanic's recommendations and your personal experience, should be taken with a pinch of salt.
Know the type of oil your car needs: Conventional, full synthetic, blends, or high mileage? What does the manual say? Learn about the viscosity index and the common viscosities. Maybe you don't need expensive oil.
Beware of the upsell: The upsell is an unavoidable and annoying part of the oil change service at most auto repair centers. Lend a patient ear to it but demand that you sign off for anything extra.
Know what's included: A lot of auto repair centers advertise unbelievably low prices for an oil change. But that's usually the base price. When you get the final invoice, there's a shop fee, additional taxes, and whatnot added to it. So, if the deal sounds too good to be true, ask them what's included in it.
How To Find The Best Cheap Oil Change Near You?
We would never drive 50 miles to get a better deal on an oil change service. Neither would you.
So, we are constantly on the lookout for the best local places to get a cheap and fast oil change. But if you search for 'Oil change prices near me', you will most likely be bombarded with aggressively marketed services. In other words, the big boys.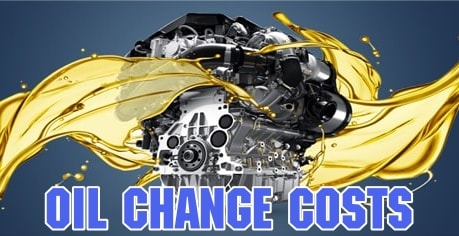 The fact though is that there are many micro-businesses who can give the big box ticket stores a run for their money with competitive pricing and personalized attention. It's not always easy to find these businesses though. CarServiceCosts.com can be a great starting point to begin your search.
You get detailed and recent reviews. The time of the review is equally important. Because the quality of service might change over time. Some service that was highly recommended three years ago, might have deteriorated off late. So, always read the most recent comments on our website.
If that doesn't help, go the good, old word of mouth way. Seek references from friends and close ones. Also, don't rate a service purely by the price of the oil change.
Look at the quality of the oil they use.
Do they use aggressive upsell or sleazy sales techniques?
'Sir, you need an extra quart of oil which will be chargeable.'
'Sir, we think your compressor's conked off'
Stay away from such places.
What extras do they offer?
How skilled are their technicians?
Do they overtighten oil filters?
Sometimes, a quick lube is the easiest and cheapest option folks.
How To Choose Local Affordable Oil Change Auto Service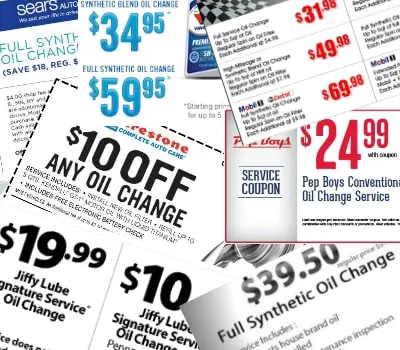 There are many things that you can do outright to choose the right service center for low-cost oil change such as checking online reviews, visiting websites of the shops you plan to visit, and checking with people for personal recommendations. Once you have many opinions, you can make a list of the top three shops and visit them all.
Finally, you can choose a provider that offers you the confidence of being professional, customer-oriented, user-friendly, budget-friendly, and trustworthy. Of course, don't be afraid to ask how long they have been in the business. The more the experience, the better could be the final outcome.
Pro Tip 1: Don't go by the reviews that you see on the car repair websites because the companies themselves control what gets published on the site. Instead, place your faith on review websites found on Google, which are controlled by third parties, as our website.
The Frequency of Car Oil Change – Don't Waste Your Money
Gladly enough, the cars of today come with high-tech engines to fully utilize the car oil present in them. So, we don't have to change the engine oil as frequently as we did in our father's time. Also, most of the modern cars out there can speak for themselves. This implies that the vehicle will tell you it's time for an oil change via the maintenance light or oil-life indicator. Typically, the computerized engine management system will alert you about oil change when the car has run around 7000+ miles.
That said, a car oil change is car-specific. Manufacturer recommendations vary from 3000 to 15000 miles. Therefore, your best bet would be to check the car manual to know the exact interval for an oil change. The car owner's manual will have more detailed and accurate information about your vehicle than any other mechanic out there. If you have lost the car manual, use an online search engine to find people who drive the same car as yours.
Pro Tip 1: It's not always about miles. If you don't drive a lot, you might still need to change the oil at least once a year to keep the oil fresh because car oil becomes less effective (degrade) with age.

Pro Tip 2: Don't stretch your luck too much on car oil change. Your car may not necessarily hit the graveyard from untimely oil change, but repair cost on a damaged engine may prove to be a far more expensive affair than routine car oil change job.

Pro Tip 3: Cars older than a decade may require more frequent oil inspection than the usual recommendation. So, show more love for the old fellows.
7 Ways To Save Money And Get The Cheapest Oil Change Near You
Stay tuned for oil change special deals and discounted offers. Since every business owner out there wants to leave a strong footprint on the online arena, there is no shortage of discount coupons on car maintenance services. So, hunt for these oil change coupons before your next garage visit.
Bring your own oil to the garage to avoid the superfluous markup most dealers have on car oils. They will charge you less than usual for the oil change because you covered the bulk of the cost by bringing the car oil.  If you simply ask before a visit, most smaller dealers will allow you to bring your own oil for a routine budget oil change job.
 Don't fall for unnecessary add-ons that the car mechanic may offer you at his den. Keep in mind that an oil change at a bargain price is a good money-making opportunity for a car mechanic. So, strictly avoid any kind of dreaded oil change upsells. As they say, 'Money saved is money earned.'
For older vehicles, you can consider switching to synthetic oil to reduce unwanted stress on the engine. The switch can prove to be an economical affair in the long run because it will help you drive longer and further before changing the car oil again.
As hinted before, never delay scheduled car maintenance services. If you do so, you will end up paying more later, than less now. For car low-cost oil change, you must act 'now' and not 'later' because things can go wrong pretty quickly once the car runs out of good running oil. So, be kind to your wallet by acting fast.
Ask your friends for their experiences with local uncostly oil change auto service stores or garages.
Is It Cheaper If You Perform Oil Change by Yourself?
Changing the car oil on your own won't be the finest hour of your life, but it can save you a bomb in the long run. Frankly speaking, the task is not difficult, but it requires you to be diligent (more on this later). By the way, the first oil change affair would prove to be a great confidence booster.
How to Change Engine Oil Any Vehicle By Yourself
If you don't like waiting or spending money on car oil change, feel qualified enough to give the task a shot on your own, provided you are not one of those guys who is known for messing things up. To change the car oil on your own merits, you will have to figure out how to safely slide under the car, how to collect the used oil, how to replace the filter, and then how to refill the car with the right oil.
Tools for the Job: You will need a jack stand, a drain pan, a socket wrench, a funnel, and an old T-shirt (optional) for the job. Unless you break these tools, you will have to buy them only once. Of course, before you get started, determine the grade and amount of oil needed—both should be listed on the owner's manual. Moreover, it's a routine practice to replace the oil filter when changing the car oil, so you will have to acquire a new filter as well. If the filter was previously tightened too much, you would also require a filter wrench to loosen it up.
Step 1: Raise the front of the car with a properly supported floor jack so that you can easily crawl under the car. Go for a hydraulic jack versus a standard jack because it's safer than a standard one.
Step 2: The next step would be to locate the oil drain plug. With the help of a socket wrench, remove the large nut on the engine's oil pan, and position the drain pan underneath the plug hole.
Step 3: Remove the oil filter with the help of a filter wrench and drain all the oil from it. Allow a few minutes for all the oil to drain out.
Step 4: CAUTION: The oil inside can be hot, so allow it to fall into the drain pan naturally. Do not let this step slip away from your mind or else you will fall victim to serious burns.
Step 5: Once the oil drains off, install the new filter. Before installing the new filter, apply a tad bit of motor oil to the new filter gasket. This can avert leaks or cracks from the gasket.
Step 6: Once the new filter is installed (hand tight only), it's time to fill the engine with new oil by removing the filler cap under the hood. (quantity and oil type as prescribed in the manual)
Step 7: Start the motor for 30 seconds and then shut it off. This will allow the new oil to settle in. Inspect the area beneath the car for potential leaks. Finally, lower the car to ground level.
Congrats! You have successfully replaced the car engine oil by following these steps. Keep in mind that the steps outlined above need to be followed in the correct order to get the job done right. If you are still on the fence, take your car to the mechanic, watch him do everything, and try it on your own the next time around.
Pro Tip 1: Change the oil when the engine is warm to make sure that the sludge flows smoothly. Turn the engine on for few minutes before draining the oil. Keep in mind that the oil shouldn't be hot, or else it can pose severe health risks.

Pro Tip 2: Do a dipstick oil analysis before and after the job to make sure that you have put the right quantity of oil in the car.

Pro Tip 3: If you own a truck or an SUV, you may not feel the need to raise the car from the ground. It may be high enough to allow you to get underneath the car to change the oil without any fuss.

Pro Tip 4: When you get rid of the old filter, make sure to remove the filter gasket with it. If it stays stuck in the engine, it will call for a bigger expense down the road.

Pro Tip 5: Make sure to use a drain pan that can handle the volume of oil expected to flush out of the engine. The owner manual will give you a good suggestion for the same.

Pro Tip 6: Most people are not aware of the fact that the used oil can be recycled. So, pour the oil into empty bottles and carry them to a local parts store for recycling instead of letting it pollute the environment by pouring it down the drain.
Final Words About Low Priced Oil Change:
Hopefully, you got to know everything about cheap oil change without reading half a dozen glossy car magazines on the same subject. C'mon, reading them all would have fried your brain. So, the least you can do is leave a comment below, and we would be happy to keep in touch with you!
That's it, folks. We hope that you enjoyed reading our ultimate guide to oil change prices. If you have anything to add to this, please reach out to us. Also, do share your experiences at these quick lubes and auto repair centers with us.
DISCLAIMER: please note that prices may vary depending on location, season or current offers, so it's best to check prices by phone before you go for an oil change service.
In this guide you will find: