The bearing component of the car is basically made out of a set of steel balls that are connected by a metal ring, which is known as a brace. It's important to note here that different cars typically contain different types of braces, but even though they're different in appearance, they all do the same job. The wheel bearing is primarily responsible for enabling the wheels to spin while experiencing very little friction. Below you will find how much does a wheel bearing replacement cost, information about symptoms of a defective wheel bearing and when you should do a replacement of front or rear wheel bearings.
How much does it cost to replace a wheel bearing?
For most vehicles, wheel bearing replacement cost is usually between $125 and $750, and rear-wheel bearing replacement cost is usually the same as a front wheel bearing replacement. For example, you might pay between $125 to $750 at your local mechanic for both labor and parts needed to replace the wheel bearing, with a 12-month warranty, whereas a Midas will most likely charge you between $125 and $650 for the same exact service on similar terms. The parts you can purchase online and wheel bearing prices are usually $135 to $650 depending on which online retailer you buy from, with the most popular options being Amazon and Walmart.

What's a Wheel Bearing?
The bearing usually sits atop the axle shaft while simultaneously supporting the wheel. It fits nice and snug inside the hollow part which is in the center of the wheels, and the lug bolts keep it in place and firmly attached to the wheel. Anyone that's changed a car tire probably knows the appearance of a wheel bearing because it's usually attached to the back of the wheel.
These days, wheel bearings are created with a coating that seals them to protect the components inside from dirt, debris, water and the elements at large. Moisture and heat are two of the major wheel bearing threats that you should look out for. For example, the bearing will rust and eventually disintegrate if water gets into it, whereas a total lack of lubrication will cause the bearing to heat up rapidly, causing friction that eventually destroys it.
The first and most common sign of a faulty wheel bearing is that it will emit extremely loud and unusual clunking and grinding noises.
What happens when you drive on a bad wheel bearing?
A faulty wheel bearing can seriously compromise your car's safety while driving. Not only does it disturb the way in which the steering wheel functions but it'll make for a really choppy ride, which is a serious problem when you're out on the road.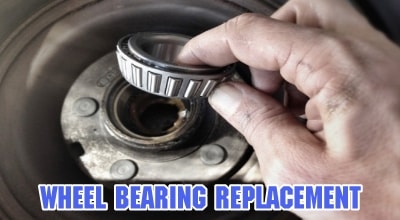 So, if your wheels start making weird noises when driving or if they seem to have difficulty moving the car forward, or perhaps the entire steering wheel shakes when you switch the car on, then you should definitely get a mechanic to check your car for wheel bearing problems.
The sooner you replace a damaged wheel bearing, the more peace of mind you'll have knowing that you're driving a safe vehicle that handles the way it should.  Plus, you'll save a lot in terms of wheel bearing costs.
When Should You Replace Wheel Bearings?
Some of the most common symptoms of a defective wheel bearing include a shaky steering wheel, tires that make a noise when driving and wheels that just don't seem to move the way they usually do. The best course of action to take in this instance would be to get it checked by a professional mechanic, who will do a full examination. In the meantime, you can do a few tests on your own to see what the problem is.
To do this, start by jacking up the car on the side with the apparent problem, and then turn the wheel vigorously. Pay attention to any noises coming out of the wheel or any other strange occurrences. Then, shake the wheel as if you're rocking it. Ideally, your wheel shouldn't move that much when you're performing this exercise, and motion should be limited to about an 8th of an inch. If there is substantial movement when you rock the wheel that means you should get the bearing checked by a professional for further issues.
It's important to get your wheel bearing inspected on a regular basis, especially if you have an older vehicle model. A faulty wheel bearing can significantly affect the essential functions of the car such as acceleration, braking, and steering, so you want to take care of any problems as they arise.
How to Replace Wheel Bearing?
If you want to learn how to change wheel bearing, read on:
First, the mechanic will place your car on a flat surface to make sure that it stands still throughout the repair.
Next, he'll place blocks all around the wheels that aren't affected to avoid unpredictable movement of the car while it's being jacked and to ensure safety during the process, while making sure to place blocks on the front wheels if it's the back wheels that are being replaced and vice versa.
He'll undo the lug nuts prior to jacking the car up so that it's easier to work on the wheel, and it's best to loosen them while the car is on the ground because it's lighter then.
Once he's untied the lug nuts, he'll specifically jack up the wheel that's being repaired.
Next, the mechanic will remove the lug nuts completely and remove the wheel as well so that he can access the bearing.
He'll also remove the brake caliper using a screwdriver.
At this point, you should be able to see the bearing, which is sealed inside a hub and kept in place by bolts which are located at the back. Carefully, the mechanic will remove the bolts and take out the old hub from the axel.
Next, the hub will be taken apart so that it's easier to reach the bearings. Again, the mechanic has to be very careful with this part because it can be quite tricky, and a wrench is your best friend when it comes to this step because, when paired with a special tool, it'll make it easier to take out the rear part of the hub. The minute this part has been removed, the hub will come apart on its own.
After the braces have been removed, they'll have to be replaced as well. Otherwise, the mechanic will clean up the interior part of the bearing assembly, while paying special attention to the section around the knuckle.
Using a hammer, he'll pat the new braces in, and then grease the new bearing before placing it into the unit. Afterward, the bearings will be examined for proper alignment and then pressed in as far as possible. The sealing rings will be inspected to make sure that they're properly attached so that no dirt or debris enters into the bearing after reassembly.
This is usually the easiest part as it involves repeating the previous steps in reverse to put the hub back together.
Lastly, a few tests should be done at this point to make sure that everything is in good working order.
How to Save Money on Wheel Bearing Replacement
Ideally, the best way to cut costs on a wheel bearing replacement is to get different quotations from various mechanics in your local area and go with the one that offers the best value for money and has a good reputation. You can try to find wheel bearing coupons. Whatever you do, don't try to do this repair on your own even if you know how to replace a wheel bearing, because it's very tricky and any small mistake can have serious consequences on the safety of your car. The easiest way to find service providers in your area would be to search online using relevant keywords like "wheel bearing replacement near me", "wheel bearing price" or "wheel bearing repair cost", "wheel bearing cost".
In this guide you will find: