Firestone has a track record of being one of the most reliable tire manufacturers in the country. However, over the years, they branched out into covering all car-related services, including oil changes. So, if you're willing to get a quick refill, but want to save some money, you'll need some Firestone oil change coupons for a discount or two. And our website has plenty of coupons to choose from.
Wait, Firestone Does Oil Changes?
Absolutely! The company only handles the highest quality oils and their experts will perform a change in no time. However, these services tend to cost a pretty penny, so having some Firestone oil change coupons will come in handy.
Use Up-to-Date Coupons to Save Money
On our website, you can find plenty of oil change coupons for all brands of motor vehicles. We update our lists regularly so that you always have a fresh discount ready to use.
What Kind of Coupons Will I Find Here?
Firestone covers all types of oil changes, including:
Standard oil changes
High-mileage oil changes
Synthetic oil changes
Diesel oil changes
Synthetic blend oil changes
Each change comes with a free oil filter replacement, though you can also expect a free battery inspection, depending on the coupon. Typically, their experts will refill up to 5 quarts of any oil blend. Each refilling is done fast and professionally; after all, their employees have years of experience under their belt, so expect a top-notch service with every refill.
How Much Can You Save With an Oil Refill Coupon?
Depending on the oil blend, you can save anywhere between $10 and $25 off of each refill. However, if you happen to be a Firestone cardholder, you can expect additional discounts or free services. Cardholders also get exclusive offers sent directly to them. All you have to do is subscribe to their newsletter and you'll receive emails every time there's a new offer.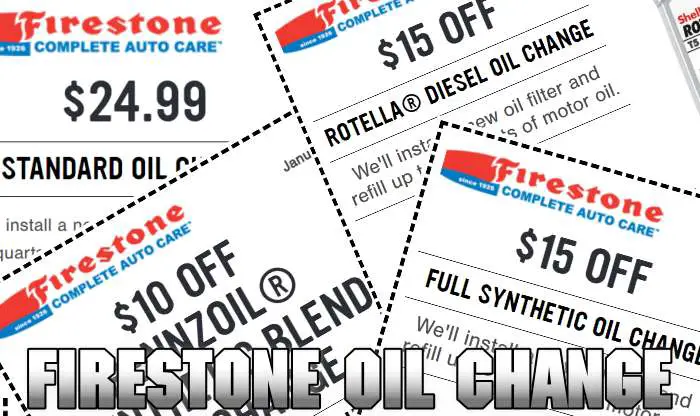 Our website regularly updates all Firestone oil change coupons, so even if you're not a cardholder, you can keep up with all of the latest discounts and offers.
Firestone Complete Auto Care Centers Working Hours
Firestone has hundreds of locations across the continental United States. Most of these centers are open on weekdays from 7 AM to 9 PM. And, more importantly, the oil change coupons listed on our website will be valid in any certified Firestone auto care center.
In addition to oil changes, the company also offers coupons and discounts on other services. These include tire changes, brake alignments, battery checks, coolant fluid exchanges, headlight and bulb replacements, and code scans. Of course, you can find coupons for all of these services and more on our website. So, if you want to save some money and get a decent oil change service, give us a visit and start browsing today.